News
The Ominous Timeline of Khabib vs. Ferguson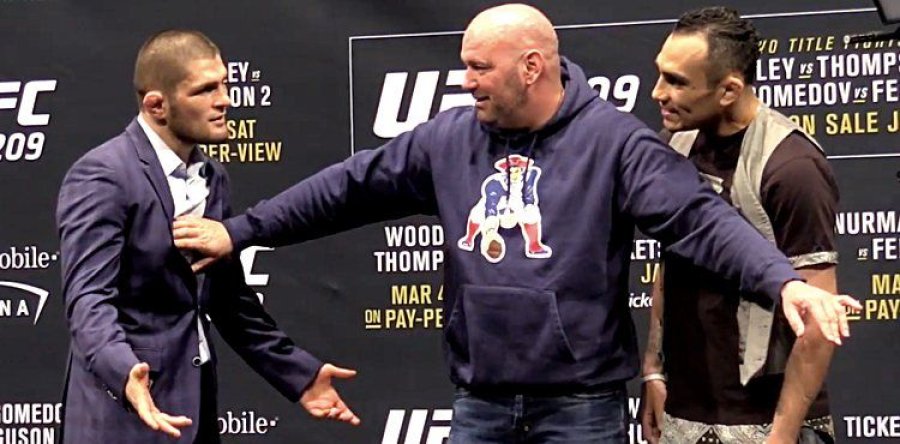 The most cursed fight in MMA history has been booked yet again. Two men who have long seemed destined to face each other may finally get a chance to do so in April, as reigning UFC lightweight champion Khabib Nurmagomedov (28-0, 12-0 in UFC) and former UFC interim lightweight champion Tony Ferguson (25-3, 15-1 in UFC) have agreed to headline a UFC pay-per-view event in Brooklyn on April 18th.
This fight is historic in a number of ways. For one, it marks the first time in UFC history that both fighters will be riding a 12-fight winning streak coming into their fight. As to how two red hot fighters – who have competed in the same weight class as each other for the entirety of their careers – have avoided fighting each other, that is due to the rather ominous timeline of the Khabib vs. Tony fight.
The two were first slated to fight four years ago, in December 2015 at The Ultimate Fighter 22 season finale. Nurmagomedov pulled out of the fight, citing injuries. The fight was re-booked for UFC on Fox 19 in April 2016, before Ferguson pulled out due to lung issues. Just under a year later, the bout was booked yet again, for UFC 209 in March 2017, this time with an interim lightweight title on the line. Just two days before the scheduled fight, Nurmagomedov was hospitalized after falling ill from a botched weight cut, causing the fight to fall through yet again.
Most recently, the two were booked to fight for the undisputed lightweight title at UFC 223 in April 2018. Days before the fight, on the first of April, it was announced that Tony was withdrawing from the fight after injuring his knee. The reported cause of the injury was him tripping over a microphone cable. Initial fan reaction was that this was perhaps an April Fool's Day joke, but it was indeed serious.
Khabib vs. Tony has been booked yet again, in what feels both doomed and yet at the same time, destined. Since the first time this fight was scheduled, the two men are a combined 12-0 (6-0 each), with four of those fights having some sort of belt on the line. If Khabib wins, he would tie the UFC record for most lightweight title defences (3), currently held by BJ Penn, Frankie Edgar, and Benson Henderson. If Tony wins, he would break the UFC record for oldest lightweight champion (at 36 years).
And of course, whoever wins will most certainly be regarded as the greatest lightweight in the history of mixed martial arts. In the buildup to UFC 229, Joe Rogan called Nurmagomedov vs. McGregor the biggest fight in the history of mixed martial arts. From a promotional and business standpoint, he was right. However, from both a competitive and narrative standpoint, nothing has ever felt quite as big as Nurmagomedov vs. Ferguson.
Khabib's father and coach, Abdulmanap Nurmagomedov, summed it up perfectly, writing: "Both are on a collision course … I call it a dream fight for all fans of mixed martial arts." Alongside this he posted an image of both fighters, each holding their respective belts. For years, fans have been clamoring for this matchup. In four months, we may finally get our wish.