Articles
Justin Gaethje is wrong about Tibau beating Khabib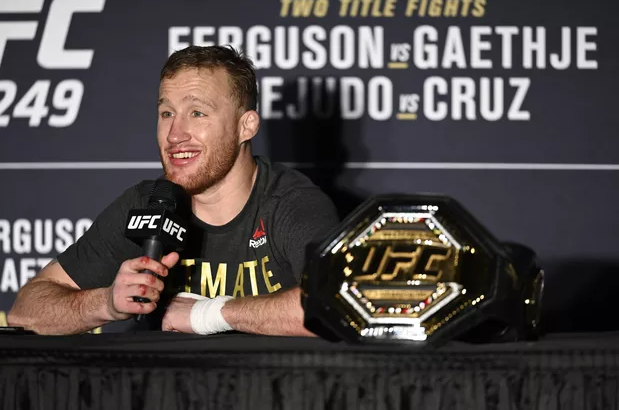 Justin Gaethje believes that UFC lightweight champion Khabib Nurmagomedov is not, in fact, undefeated, recently professing the view that Khabib actually lost to Gleison Tibau. "I think he lost to Tibau," said Gaethje. "[But] that's just me."
Nurmagomedov faced the Brazilian veteran in his second UFC fight, and was awarded a unanimous decision victory, with all three judges scoring the contest 30-27 in favor of the Russian. The media, for the most part, felt that Tibau was the rightful winner. Fan opinion has been divided, more or less, across the middle, with slightly more fans scoring the fight for Tibau, according to mmadecisions.com.
So, every year or so, this topic gets drudged up again, with debate and discussion as to who really won this fight. On the one hand, it's reasonable; Khabib has been dominant throughout his career, not only beating his opponents but vanquishing them, and here we have one fight on his record where there is some disagreement; where many believe that his opponent won.
I am not going to bother talking about Nurmagomedov's growth as a fighter since the Tibau fight. This goes without saying. Nor will I qualify the discussion by referencing Tibau's PED suspension. No, we want to see this fight at face value; to assess it for what it is.
On the surface, we can see how it stands out from Khabib's other fights. For one, he failed to take Tibau down, which is unheard of for Khabib. And, well that's pretty much it. Khabib failed to take Tibau down, and neither man was particularly active in the stand-up. In fact, in terms of strikes thrown, this fight was barely more active than Woodley vs. Thompson 2, and yes, that's factoring the difference in duration.
The stats certainly do not tell the story of a clear winner. Khabib threw slightly more strikes, and the two landed about the same number of strikes. There was not much disparity between the rounds, either, as far as strikes and striking percentage are concerned. Neither man landed more than ten strikes in a single round.
What about when we actually watch the fight? What are our eyes telling us? The first round was probably the easiest one to score. Very little action for either man; no particularly damaging strikes landed. But Khabib was the more aggressive fighter, attempting a variety of takedowns. For most of the final two minutes of the round, he was controlling Tibau against the fence while chaining together takedown attempts. All other things being equal, control can win a round. Thus, I can't really see any argument for Tibau winning round 1.
The second round is where I kind of diverge from the official scorecards. I give that round to Tibau simply because he managed to take Khabib down, although once again, in this round, Khabib was the one pushing the pace and controlling the center of the octagon. It's a tougher round to judge than Round 1, but I gave it to Tibau when I first saw it and I am standing by that, simply because of his successful takedown.
In Round 3, Gleison takes Khabib's back for a few seconds. But are we to credit Gleison for the back-take, or Khabib for getting out of it without being in any danger? Kevin Lee had Al Iaquinta's back for what seemed like an eternity, constantly threatening the rear naked choke, and landing some strikes as well. And this was done in two separate rounds. Yet, the judges gave Al that fight, four rounds to one. And nobody really disputed it. Al did win that fight.
So I don't think that back-take was enough to give Gleison the third round. Especially when Khabib was continuing to push the pace, controlling the center of the octagon and attempting more strikes than in any previous round.
Tibau, the crafty veteran, was playing for points. Khabib, the young up-and-comer, was constantly pressuring, and even adjusted his gameplan to adapt the defensive Tibau. He attempted fewer and fewer takedowns (which were fruitless), and attempted more and more strikes, in each successive round.
All in all, does it matter? No, it does not. It was not a very interesting fight. The only reason we still talk about this fight is because it's the only competitive fight on Khabib's resume. As much as I respect the differences of opinion here, it's silly to go so far as to count this against Khabib's record. This isn't a loss. It's really not even a controversial win. The judges saw a close fight and gave the decision to the more active fighter.