News
Khabib doesn't like to hurt people... except for McGregor
In a Q&A session with some Moscow school children, Khabib Nurmagomedov was asked about his most memorable fight. "I'd say my second to last fight. You all know who it was against," answered the UFC lightweight champion, not mentioning Conor McGregor by name.
Later in the session, Khabib reflected on his state of mind at this point in his career: "In the last couple of years I've gone out there and won and it doesn't bring me any real joy to be honest," noting that it is not particularly pleasurable to inflict pain in his fellow fighters. However, he did mention an important exception. "I beat that guy [McGregor] with pleasure," to which the audience applauded.
RT Sport uploaded a portion of this Q&A session to their YouTube channel:
Khabib, who throughout his career has typically treated the fight game as sport and competition, is in an ongoing (and seemingly never ending) personal feud with Conor McGregor. The two have traded barbs at a near constant rate since their showdown at UFC 229.
Just last week, after Khabib's cousin and teammate Abubakar Nurmagomedov tapped to a triangle choke of David Zawada at UFC Moscow, Conor tweeted out this message, which he later deleted: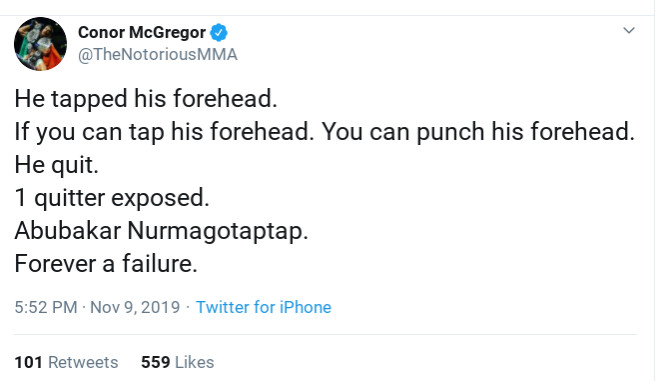 Khabib was not impressed with his cousin's performance, and was not shy to let him know about it:
https://twitter.com/MMAMirc/status/1194065801789267973
Whether we like it or not, this rivalry exists. And it does not appear to be going anywhere any time soon. Conor has been clamouring for a rematch, to which Khabib has repeatedly said no. But Khabib's father and coach Abdulmanap Nurmagomedov has expressed openness to the idea, particularly if it is held in Russia. "Moscow is waiting for him … We want to host him in Moscow, he is welcome …we are waiting."