Articles
Volkanovski Ends Holloway Rivalry In Style
For the last year or so, I've been pretty consistent in championing Alexander Volkanovski's claim to being the number 1 pound for pound fighter in the sport.
Kamaru Usman, Israel Adesanya, these guys are incredible talents in their own right, of course - but I dunno, there is just something to be said for the technical mastery that Volk brings to the table - and how he's directly contributing to the growth and evolution of this sport.
And with this third win, this most dominant victory against the legendary Max Holloway - I just think that he has progressed into another realm entirely.
The Best Fighting the Best
For a champion looking down on his contenders - there are only a handful of wins that hold as much weight as getting one over on a guy like Holloway.
Adesanya has it with Whittaker, Usman has it with Colby - triumphs that come against another athlete in your weight class who would, without question, be ruling the division with an iron fist if it weren't for the existence of the champ who is marginally - or in some cases - considerably greater than them.
And I think while there were a few reasons why Max's performance may have been off - it is beyond clear at this point that Alexander Volkanovski is the greater of the two.
Over the fifteen rounds we got - sure, there were some great moments for Blessed - especially in that second fight.
But as I've said before - I scored both fight 1 and fight 2 for Volkanovski - and with this complete and total clean sweep - it is going to take something completely unheard of for Max to get his name back into a challenger spot beside his rival.
Volk just had his way with Max for the most part - showing a very surprising speed difference - landing at an incredibly high rate of accuracy - battering his opponent and making the gulf in quality quite apparent.
There was a certain ferocity to him as well that was just really good to see from a champion, from a guy who is slowly growing comfortable in his role as the captain of the featherweight ship.
Max just couldn't find his momentum - which, for a guy like him whose entire style if built off of increasing momentum - yeah, it was very clear in the fight's middle portions that every minute was a real case of 'now or never' and it just didn't happen.
Volkanovski is so good as stifling his opponents. That performance he turned in against José Aldo - a performance that has really aged quite well - showcases his ability to make his adversary fight his fight.
And in this trilogy bout with Max, this was Volkanovski's fight in minute one, minute twenty five - and in the majority of the exchanges that came between.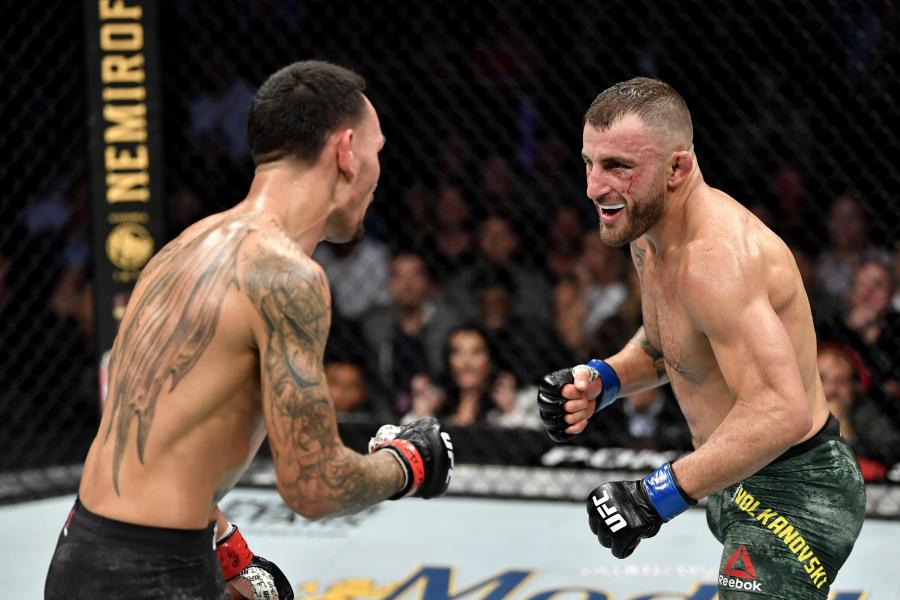 Move to Lightweight Inevitable?
With that, Volk moves past this rivalry - or at the very least, puts it to bed as things stand in a way that is totally definitive.
And looking down the rankings - I think Josh Emmett is the best pick for the next crack at the belt.
I know it's not the glitz and glamour fight that Holloway was - but in the interests of moving the division along - I think Emmett makes sense.
But here's the thing - Volk has now officially made his interest in a move to 155lbs clear - and with the title currently in a state of limbo - I think the man deserves to be considered for a shot.
Of course, Islam Makhachev needs to get one too - and I would honestly prefer to see him be the one to take on Charles Oliveira for the quote, unquote 'vacant title'.
He has earned his chance.
But for Volk, who knows. Maybe a title defense against Josh Emmett would be the perfect stepping stone into an eventual assault on the division above.
And I do think this guy is just a special, special fighter - one who will introduce an entirely new element to one of the best divisional landscapes in the history of the promotion.
The idea of seeing Volkanovski try to handle Charles Oliveira's chaos or deal with Islam Makhachev's overbearing mastery of wrestling and grappling.
All of a sudden, I'm thinking about Alex as a 155 pounder - and I must say, he could well be just as a big a threat to both men as they are to each other.
I mean look, he'll be a little short for the weight class - but it's his prowess as a technician, his speed, his physical strength, his insane fight IQ - these things should help him translate up the higher division - I mean, I dunno if you've heard, but he used to weigh 1,876lbs back when he played rugby.
And the idea of seeing Volkanovski dare to be great - to step up into the primetime division of the sport - to throw his name into the hat alongside all of these icons and future icons - that's where this man could begin to really take his legacy to another level.
Because, and this is something I had floated around in my mind before - but if you look at MMA as a constantly evolving thing - with today's game, more often than not, showing us the highest levels of the sport in its development.
Volkanovski Building a Legacy
Volkanovski is right at the peak of that - he's already one of the most technically advanced fighter we have ever seen in MMA.
And I do not make that claim lightly.
I really think that at this point - over the next 2 or 3 fights, we're going to see just how far Alexander Volkanovski can push it - because this performance should really stand as definitive proof of his placement among the all-time greats in terms of ability.
Now, with an eye on a move up to 155 - we'll get to see if he can carve out the type of resumé that would see him join the likes of Georges St-Pierre, Jon Jones, Anderson Silva, and so on.
Again, that may sound premature - and I'm just setting the table for what may follow - but skill for skill, Volk is already there - relative to his overall competition - and his ability to put distance between himself and his greatest rival.
And I'm now fully ready to step the Alexander Volkanovski conversation up to this next level.
This is a generational talent, folks. And I think the time has come to start giving him that level of respect.