Articles
Should Max Holloway Go To Lightweight?
Great fighters need great opponents in order to further their legacy.
And though the scoreline of 3 and 0 to Alexander Volkanovski doesn't tell the full story of his rivalry with Max Holloway - I think most would agree that we've seen enough of these two across 15 rounds to know who the better fighter is, at this point in time.
And if you haven't checked out our video on Volk and his pound for pound number 1 claim - I'd urge you to do so after this video - but this time around, I'm going to make Max Holloway the focus here - because it goes without saying that he's in a tough spot.
A Cut Above the Rest
The terms of 1A and 1B are thrown around a lot when there's a champion and a top contender who are very clearly miles ahead of the rest.
I think the best example we have right now - outside of the featherweight division is Israel Adesanya and Robert Whittaker - the champion - who is 2 and 0 over the contender - but in this case, Whittaker has gone 3 and 0 against his fellow middleweights between fights with Adesanya.
Now, I think the featherweight division is a much stronger weight-class than middleweight - and being in Max's position - just off the top, holds a pretty significant danger - with the strength of the rising prospects within that division.
But I suppose my main question is one that involves this difficult crossroads Holloway finds himself at.
Sure, being 1B is all well and good - and prior to Volkanovski's rise - Max had a legendary run as both a contender and then later as the divisional champion.
But even though, at 30, it would be easy to say that time is on his side - as one of the statistically most-hit fighters in the sport - Holloway seems like he's always on the verge of really dropping off.
I mean, look, it's hard to know - and he is truly as tough as they come.
But the dude has miles on his tank - and looking at his options moving forward - the best move for his future might be the one that involves the most risk.
Roadblock
Because while on one hand, he could just hang around at 145lbs - beating contenders in the hopes of getting two or three wins on the trot - forcing the UFC to make him a fourth fight with Volk.
And that might work - in terms of actually getting the title-shot - but I would be concerned over just how much Holloway can improve - relative to Volkanovski's own rapid pace of improvement.
Max had 15 rounds to make a dent - and aside from the two knockdowns he scored - which, obviously changed the scoring of those two rounds - it's not like he had any real spells of dominance or major momentum on his side.
Yes, he looked good in spots - but 15 rounds is a long time for a fighter as cerebral as Volkanovski to get his reads.
And yea, it just looked like the longer he spent in there - the less danger he posed.
It's not like Max has major finishing ability in fights that he doesn't pile on with momentum.
Indeed, he has a great record of getting opponents out of there - but it's usually a build-up of his pace and pressure that causes the long combos that eventually spell their doom.
And with Volk - the main takeaway I had from that fight, was that Max just couldn't get his game going - couldn't begin to build his usual pace.
And I think the time has come for Holloway to really consider what the lightweight division might have for him.
But don't get me wrong, it's not an easy sell - not at all.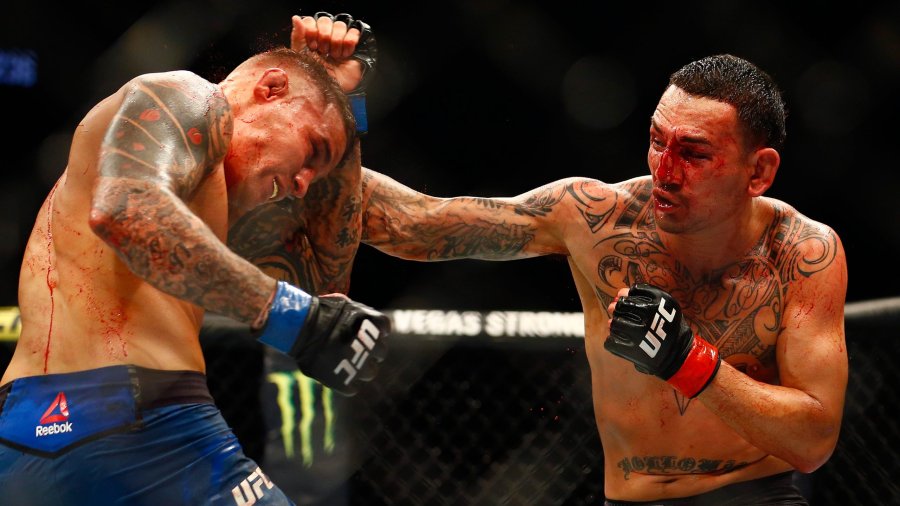 A Choice Between Bad and Worse
The issues that may present themselves at lightweight could prove to be a big issue for Max.
I see a lot of people boil Dustin Poirier's 155lb interim-title victory against Holloway purely down to power - and while sure, that was a factor - the read on that fight that is worrying for Max - is that his own lack of power will make fighting in his style difficult.
Because sure, he has been able to assert himself over big hitters in the featherweight division - but I just think that the step up - unless it comes with a considerable physical change - might result in Max getting bullied a lot - getting landed on just as much as he does at 145 - but with greater consequences.
Add in the damage he has already taken - and the presence of some absolutely amazing, physical strong wrestlers at 155 - and I don't know how well Max's strengths would translate.
Because he is the type of fighter whose attributes are so perfect for his natural weight-class - that I fear that a move upwards would highlight some major issues.
Again, he gets hit too much - and though his chin has served him well at featherweight - I think the Gaethje's and Chandlers of the division could really hurt him - especially at this point in his career.
His cardio is a weapon in and of itself - but I think there's something to be said for how Poirier's power advantage allowed him to gradually turn the tide. The threat of what was coming back at him just wasn't that significant - and it was something that I had concerns over when Holloway was trying to step up and take on Khabib on short notice.
Obviously Max has excellent takedown defense - but I wouldn't call him a physical force.
Guys like Michael Chandler, Islam Makhachev, Mateusz Gamrot, Arman Tsarukyan - these names have real physical presence - or at the very least, stellar technique combined with great leverage due to body type and frame.
And Max wouldn't have the length over these lightweights. It's easy to forget that he only has a 69 inch reach - and while that is augmented by his height - he's never been a fighter who can use his frame to deliver mechanically perfect shots with major explosive power - think Michael 'Venom' Page.
So yea, it's a tough position to be in.
And realistically, I think the move to lightweight would warrant some time off - time to rest, time to develop some muscle - to adjust to that new frame and how it would perhaps affect his cardio-intensive style.
And I think regardless of what he chooses - some time off would be good.
Though I believe that Max will continue to fight at 145lbs - at this crossroads - as much as I see many reasons why it might not work - I think after this long and drawn out run at the top of the featherweight division - perhaps Holloway would be wise to go back to the drawing board.