Articles
Sanctions against Iran hit the UFC
Note: This article is based on a video uploaded to our YouTube channel on 30 May 2019, in which we predicted that Amir Ali Akbari was destined to win UFC gold. This was posted shortly after Ali Akbari was signed to the organization. However, since then, it has been revealed that – due to US sanctions against Iran – the UFC will not be able to pay Ali Akbari, and thus he will not fight for the promotion. Naturally, this means our prediction will not come to fruition. Nonetheless, we will use this occasion to mourn the loss of Amir Ali Akbari, for whom we had very high hopes.
To talk about what Amir Ali Akbari could have meant for Iranian MMA, it is necessary to first explain the deep relationship between the Iranian people and the sport of wrestling. This is difficult to do; if we were to simply look at Olympic medals, we would see that Iran is near the top of – but not at the very peak of – the sport. It is the USA which leads the world in all-time Olympic medals for wrestling, although the USSR would most certainly have been at the top if they were still around. Iran, meanwhile, is ranked just 11th in gold medals, and 10th in total medals.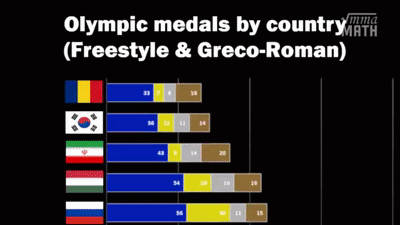 In freestyle alone, Iran has fared better; Iran is sixth all time in total medals won in freestyle. None of these rankings are humiliating or anything; this confirms that Iran is among the wrestling powerhouses of the world. But it falls short of what you would expect from a nation with a self-perception as the wrestling capital of the world.
However, any wrestler will tell you that the prowess of a nation cannot be reduced to simply the number of Olympic medals it possesses. Wrestling is a year-round sport; it just so happens that two events – the Olympics and the NCAA tournament – are the ones which draw the attention of the American audience. The wear and tear on these guys' bodies is astounding, and as such, there has been a sort of unofficial territorial divide in international wrestling competition. The US goes all out for the Olympics, as expected. Henry Cejudo wouldn't have had it any other way.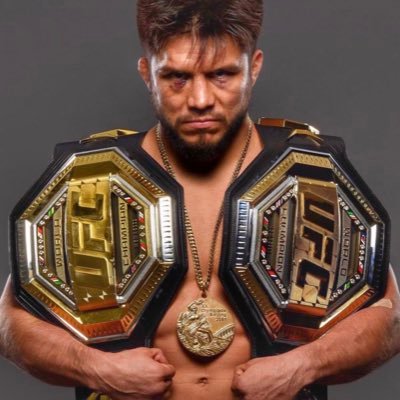 Russia, meanwhile, has dominated the world wrestling championships. Iran, however, has always saved its best wrestling for the world cup. In fact, Iran won six straight freestyle wrestling world cups from 2012 to 2017, three of which were hosted in the US. The only other country to win six straight world cups was the USSR (1973-79, 83-89), and that was back when there were fewer countries participating. Not to mention, the very existence of the USSR – this giant amalgamation of Slavs, Caucasians, and Central Asians – was just unfair for the wrestling and grappling world.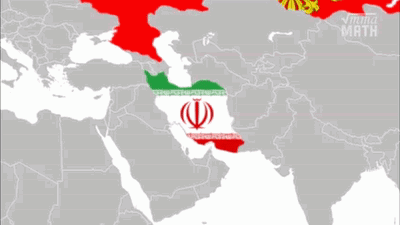 Suffice it to say that Amir Ali Akbari has been training with some of the best of the best since a very early age. His Greco-Roman wrestling pedigree is probably the best in the history of MMA. He won gold at the 2009 Asian championships, and won gold twice at the World championships (although his 2013 medal was stripped due to a doping violation).
Greco-Roman wrestling is an interesting base for MMA. The Greco-Roman ruleset is of course more restrictive than that of freestyle...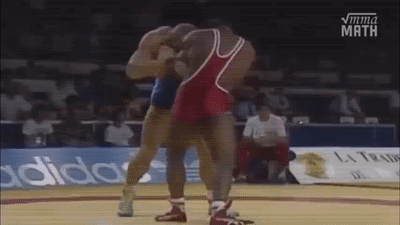 While the conventional wisdom is that a more open ruleset will naturally create a more well-rounded fighter, and that is true, it is also true that if a fighter has a specific skill that is leaps and bounds above the competition, he can find success so long as he is able to lead the fight in the direction he wants. And as Randy Couture proved, Greco can absolutely be effective as a base for MMA, even at the highest level.
There are a few things Ali Akbari does that would have made him a dangerous prospect, or to be clear: he does just one thing, and from that one thing he sets up everything else. What stands out about the former Greco-Roman champion is that he can get into dominant positions in the clinch pretty much at will.
He chains a few punches together and then clinches up: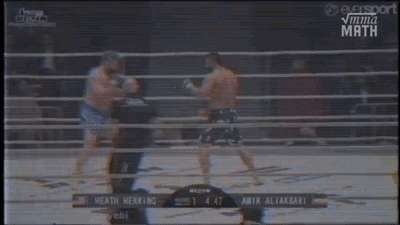 His opponent tries to land a combination on him and he clinches up: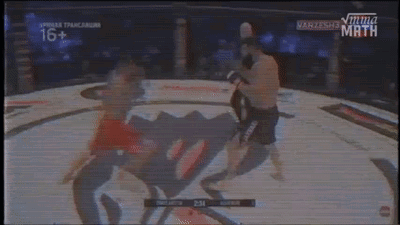 He's tired and wants to catch his breath? He clinches up: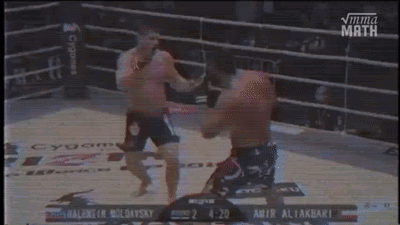 He got clipped and he wants time to recover? He clinches up: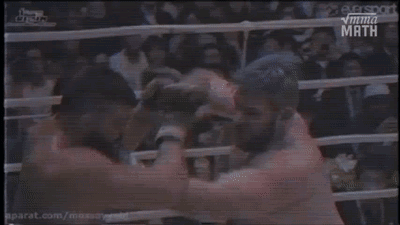 In the clinch, he is in total control. A few times in RIZIN, because they use a ring, Amir had his opponent up against the ropes and the referee reset the fighters in the center of the ring...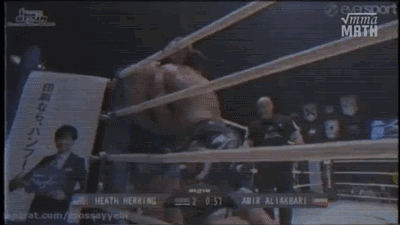 But since moving to ACB, he has been able to push his opponents to the fence and control them with impunity. From this position, he has not only been able to set up takedowns. He's also gotten pretty good mixing in knees and other strikes: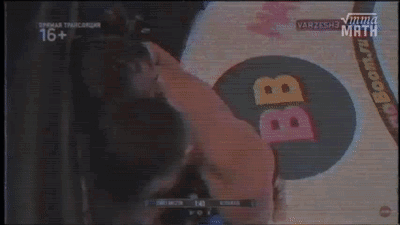 His overall striking game leaves much to be desired, but he's improved. And he has the natural power and sturdy chin that can mask many deficiencies. Thankfully, he's stopped spamming those overhand rights with zero setup like he used to: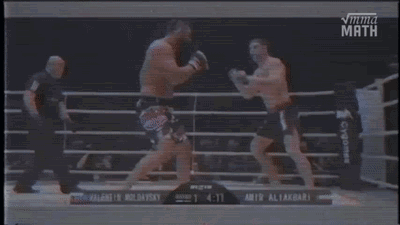 Naturally, the takedowns are the foundation of his MMA game. I don't know what the official stats are, or if anyone even kept official stats for these bouts, but by my count, he has attempted 21 takedowns and was successful in all but one, in his last fight against Shelton Graves. And that was a single leg attempt, not really his bread and butter.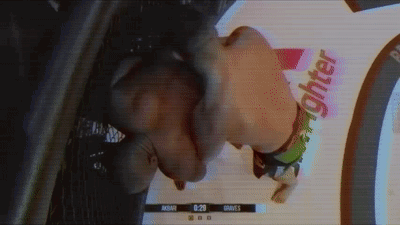 Like almost all wrestling-base MMA fighters, he loves the ground and pound, and it seems his favorite position for this is the crucifix.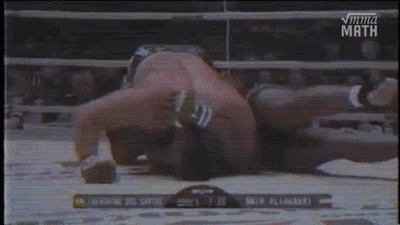 But his submission game is very much lacking; he has yet to even attempt one (by my count, anyway), and it's not because of a lack of opportunity.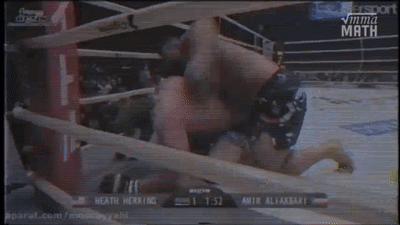 Here, Heath Herring has survived a vicious ground and pound but just cannot be put away. Amir has his back and could attempt a rear naked choke (i.e. the first choke a jiu-jitsu white belt learns), but he just doesn't. You do not need an elaborate submission game to be a good ground fighter, but not being able to perform a basic choke from a dominant position against a compromised opponent, is the type of thing that can open the door for a comeback loss. Herring caught his breath between rounds and rallied to put up a good fight in round 2. Amir, meanwhile, was visibly gassed. He won the decision, but that was a two-round fight. If it had gone to a third round, it could have turned out differently, not because Heath had anything for him, but because he punched himself out and didn't have a Plan B to finish Heath.
So aside from his still rudimentary striking skills and lack of a submission game, there is a big concern about his gas tank. His one loss is at least partially due to this issue. RIZIN, much like the Pride of old, is fond of holding tournaments. At the 2016 Rizin World Grand Prix, Ali Akbari fought three times over the course of a weekend. His fight with Mirko Cro Cop was his second of the night. Exhausted and hurt, he couldn't impose a wrestling-heavy game plan, and got predictably outclassed on the feet by one of the all-time great strikers in MMA.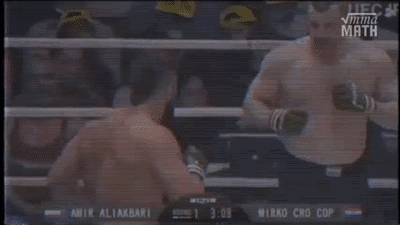 According to his coach Mike Swick, he was so out of it before the fight that he twice tried to enter the ring from the wrong side. Ali Akbari is a big heavyweight, and the cardio required for MMA is a different challenge from what he has been accustomed to for most of his athletic life. This is definitely something that we would have had to have kept our eyes on if Amir had fought in the UFC.
But there is a small sign of encouragement: he went the full three round distance against Daniel Omielanczuk and seemed to be managing his energy well. The caveat is that this fight was delayed for over four minutes for an illegal blow. But that is progress, seeing that he used to be spent after just one round.
And it has to be said: the UFC heavyweight talent pool is a bit diluted at the moment. There are a few interesting fighters at the top but a lot of them are specialists. Then there is the anomaly that is Derrick Lewis, who made a run at the title using punching power alone. In a world where Derrick Lewis can fight to become the heavyweight champion of the world, is it really that inconceivable to think Amir Ali Akbari could have done the same? Cormier will retire after one more fight, and even Stipe is getting up there in years. Heavyweight is about to be broken wide open. Amir could have potentially filled that power vacuum.
The biggest loser from this unpleasant news is the Iranian MMA community. I mentioned before that Iran is steeped in the culture of wrestling; it is a country where wrestling tournaments are broadcast on live television (year-round, not just during the more prestigious or important events), and where the top wrestlers have a status akin to a Lebron James or Mike Tyson in the US.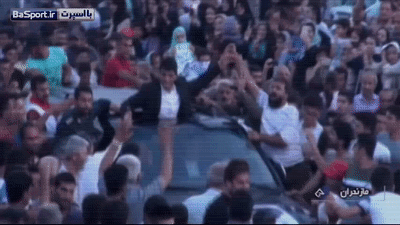 Even though wrestling is an amateur sport and these guys don't really get paid, it is a popular spectator sport in the country, as well. The notoriously loud Iranian fans travel abroad in droves to cheer on their wrestlers. In a way, this pride, this prestige; the unparalleled respect and admiration that a wrestler receives in Iran, has precluded them from pursuing mixed martial arts. In fact, it's not even on their minds. What has proven to be a natural career transition for many top American wresters, is a totally foreign concept to the Iranians.
Amir Ali Akbari is the first high-level Iranian wrestler to make the jump to MMA. And a sport which had been largely unknown and unappreciated in the country, is slowly gaining momentum. If Ali Akbari had become a champion in the world's biggest MMA organization, I can only imagine that it would have triggered large scale interest in the sport among fans and young athletes alike. He could have provided a blueprint for other Iranian wrestlers, much like Khabib did for Dagestani wrestlers and sambists.
So, uh, yeah, let's take a moment to mourn what would have been a monumental moment in our young sport's history; the explosion of MMA in a nation of 80 millions.