Articles
Mike Tyson vs. Roy Jones Jr. reflects the sad state of today's boxing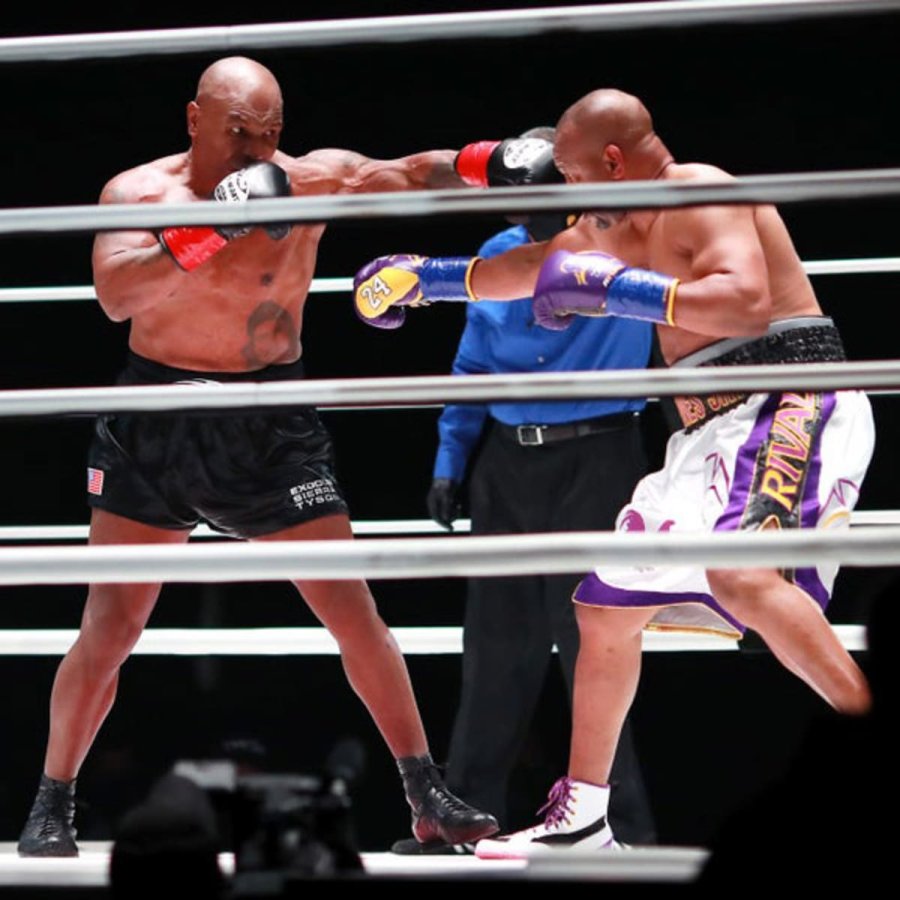 Mike Tyson vs. Roy Jones Jr. sold 1.2 million pay-per-views. This is around 350 thousand more than Tyson Fury vs. Deontay Wilder 2.
In other words, a highly anticipated rematch between two undefeated heavyweights in their prime, sold around 30 percent fewer PPVs than an exhibition bout between two fighters over the age of 50.
There is probably not much overlap between those who bought the PPV for Tyson vs. Jones, and those who bought the PPV to watch YouTuber Jake Paul fight retired NBA dunk contest legend Nate Robinson. But regardless of how many people bought the card for Tyson vs. Jones and how many bought it for Paul vs. Robinson, it reflects very poorly on the state of boxing that it sold more than an actually relevant heavyweight title fight.
The card was sponsored by a TikTok knockoff app and what I can only assume is a cannabis company. The media personalities who were covering the event ranged from Mario Lopez (of "Saved by the Bell" fame), to Sugar Ray Leonard, to Mauro Ranallo and Snoop Dogg.
In between the fights was a popular music concert of sorts. I can't tell you who these music people were, so I won't even try.
It really seemed like the event was trying to appeal to both the combat sports fanbase – with Mauro, Israel Adesanya, and Sugar Ray Leopard – as well as to the Jake Paul fan base; with the concert interludes and Snoop Dogg on commentary.
To be fair to Snoop, he seemed much more knowledgeable about boxing than the average person. But there's just not enough depth in his commentary for someone who is actually interested in the fight.
Mauro was, of course, trying to hype up the fight as much as he could. Israel did a good job considering it was his first attempt at broadcasting. Sugar Ray seemed content to just collect his check. He barely even spoke.
Four people is too many in a commentary booth. And with Mauro and Snoop dominating the mic, we didn't hear much from Adesanya, and even less from Leonard.
In the co-main event, we saw a former professional athlete get dominated by a YouTuber. I don't know who Jake Paul is aside from that he's a famous YouTuber, but anyone who watches basketball knows Nate Robinson. He won multiple NBA slam dunk contests in spite of being a man of average height.
I figured if both were starting from zero boxing or combat sports experience, Robinson should have a much faster learning curve due to his having been one of the top athletes in the league full of the top athletes. But judging by his performance, it looked like as though didn't even train at all.
It was a circus show.
The main event was, for what it was worth, entertaining at the very least. But of course, even in an exhibition match between two men who should be retired, we get a very questionable decision. The judges scored the fight as a draw.
No one loves Roy Jones Jr. more than me, but I have trouble finding a single round that he won.
The rounds were all, more or less, the same. Tyson looked quite sharp, and found his range fairly early on. Jones tried to keep him at the end of his jab but invariably would become compelled to hold on for dear life and bring the action to a grinding halt.
If I had to give one round to Jones, it would be the sixth, because Tyson didn't land quite as many punches. But in the other seven rounds, Tyson comfortably outstruck Jones, and his punches seemed to be doing far more damage, especially the body shots.
Before the fight, I was actually leaning Jones, due to the fact that Tyson had not fought in 15 years, whereas Jones had fought, and won, fairly recently. But as the fight unfolded, one began to realize why Tyson was constantly imposing his will, and why Jones was compelled to grind his way to a decision.
Everyone remembers the kung fu movies with choreographed fight scenes, but of course: n one can imagine such things to possibly ever take place in real life.
Well, they can. But it takes a once in a generation man to do it. Roy Jones Jr. says he learned how to fight by watching roosters and kung fu movies. This is while Mike Tyson's style was taught to him by Cus D'Amato, one of the greatest boxing minds of all time.
This was a matchup of styles, and Mike's style has simply aged better than Roy's.
It's almost cliché to say that prime Roy Jones Jr. was just an athlete, and that as soon as his athleticism declined, so did his fighting prowess. This isn't fair. Prime Jones was supremely technical; possessing unique defence and wholly unique way of generating power.
The issue is that the techniques Roy Jones Jr. had developed, apparently from watching movies and livestock, were very much predicated on him being Roy Jones Jr. Not everyone could have made that style work; not even – as it turns out – an aging version of himself.
So, in retrospect, it makes sense that Tyson won the fight. But now I'd just prefer if both of them stayed out of the ring and that Roy replace Snoop in the commentary booth.