Articles
Khamzat Chimaev is Human... And we love it!
For close to two years now the fighting world has been enthralled by the rise of Khamzat Chimaev - a period of time that included a year-long spell of absence due to his battle with COVID-19.
And despite his high level of activity early on - that 12 or 13 months he spent out of action actually managed to elevate the levels of mystique that surrounded him.
By the time he returned for his Abu Dhabi welterweight top-15 breakout performance against Li Jingliang - he was already being heralded as an otherworldly force who was a threat to both the welterweight and middleweight titles.
And his showing against The Leech did enough to leave his fans convinced of his future prowess.
But I think, after seeing the man in action over the course of fifteen minutes last Saturday - two things have happened.
An Instant Classic
Firstly, that mythical quality he has, the 192 strikes given with only 2 absorbed - and all of the things that made his ascent special - the notion that saw many people pick him to win in extremely dominant fashion against a fighter as experienced as Gilbert Burns - I think that side of the aura that surrounds Khamzat has changed - and trust me, I don't mean changed in a bad way.
And it ties into the second thing that I feel has happened - this guy has gone from the boogeyman of the sport, a fighter who was literally too good to be true - he's gone from that, to a legitimate top-5 welterweight with a whole range of strengths and weaknesses we can point to - and honestly, I'm actually very happy to see it.
Everything about the war him and Gilbert Burns put on for us left us with little doubt as to who exactly Khamzat Chimaev is - who he is within the context of the welterweight division - and above all other things - how clear it is that he has championship potential.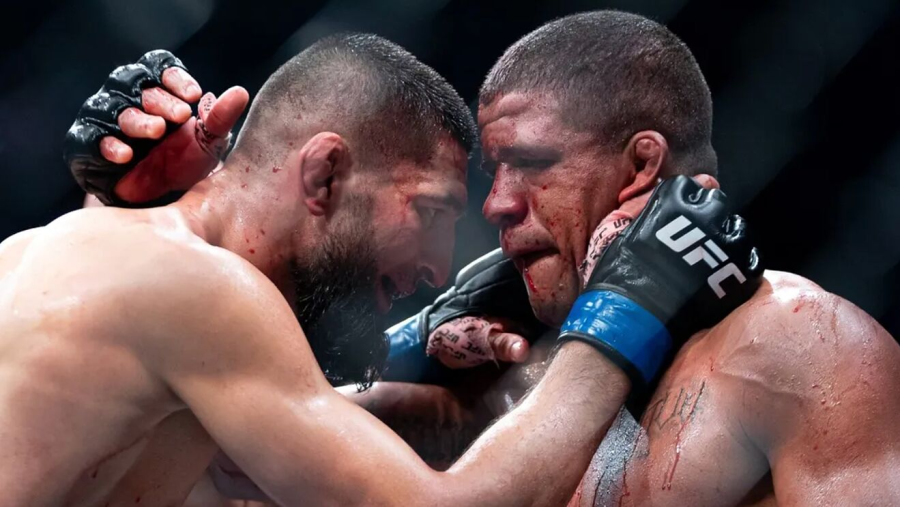 A Learning Experience
To those of you who took some level of disappointment away from the fact that Khamzat didn't absolutely run through Burns - I understand the desire to see the fairytale beginning go on and on - but what we got at UFC 273 had far more of the way of substance to it - far more than can be pointed to as real proof of his quality.
Sure, the 192 and 2 strikes landed to absorbed ratio is now a thing of the past - but in its place, we have learned so much more.
Khamzat's resilience, his astonishing takedown defense, his three round cardio - or at least his ability to put a pace on - offense from both stances to some degree - that uppercut he goes to, and, of course, his ability to tangle on the ground with even the great BJJ artist that is Gilbert Burns.
Now we have real evidence of Chimaev's talents as an elite welterweight - real data against a highly reputable opponent in Burns that will allow us to answer some of the questions that will be present when he goes up against the likes of Colby, the likes of Usman.
Because having a whole bunch of unknowns about your style is all well and good - but coming out of UFC 273 - we now know for a fact that Khamzat has more to his game - both in terms of strengths and weakness.
But my main takeaway regarding both - is that yes, while he does have that explosive ability to destroy an opponent - to completely take them out of their game - he also has all of the time in the world to become a much more well-rounded fighter.
Because going into UFC 273 - we didn't know how he'd look in a firefight, how he'd deal with some real opposition in the standup - what tools he would look to utilise when jumping into his opponent's guard wasn't wise.
And sure, there are shortcomings - and above all other things, I think it's fair to say that he needs to work on his defense in the stand-up.
A Bright Future
But for me, having a clearer picture of where Khamzat is at makes me even more excited to watch his development.
And I would hope that most of you who subscribed fully to his merits as a future champion before the Burns fight are just as excited by what we actually got in the end as I am.
Because this version of Gilbert Burns - and I'm pointing specifically at his fight-week interviews and in particular, that excellent chat he did with Luke Thomas and Brian Campbell of Morning Kombat - that was the most tuned in and aware version of Durinho we have seen in the UFC so far.
A top-3 welterweight in the world - who served as a massive step up in competition.
And Khamzat passed.
And he left us with an instant classic to show for it.
So for all the tricky moments he was forced to deal with in there - my main takeaway is that the 170lb top-5 has a very dangerous new addition - a fighter who didn't crumble under the pressure of what has been shown to be a truly unique rise through this sport.
The Title Picture
Like a lot of you, I would agree that I would prefer to see one more outing before throwing him in there with Kamaru Usman.
I don't think it's an unwinnable fight for Chimaev - not by any means - but with an eye on keeping healthy prospect management front and centre in our thoughts - why not set up the Colby Covington fight - allow these two elite welterweights to truly single one of themselves out for the next crack at UFC gold.
It would serve as the perfect precursor to the next step in Chimaev's run - if he can, in fact, pass this test.
And it would give him time to mature into his role as a major star, and, of course, it would allow him to work on the things he needs to work on.
Everything about Chimaev post-fight really hammered home where his head is at.
The dude wants to get better. He wants to be tested. And I have no doubt that he can become a champion and a great fighter if he makes the necessary adjustments.
A fight with Covington would be a huge business - and an interesting stylistic warm-up for Kamaru Usman.
So for now, I'm happy to just sit back and enjoy the fact that the UFC have gotten themselves another star like Khamzat.
I didn't think that he was going to go in there and have it easy with Gilbert Burns - but what we did get in the end has really given us a much clearer picture - a more solid idea of who Khamzat Chimaev is, and above all other things, who he can be.