Articles
Khamzat Chimaev: A Freakish Talent in a Freakish Scenario
Most would agree that the most prestigious fights in mixed martial arts are those that involve the sport's champions.
With the belt on the line, the extra two rounds of action to help in distinguishing one of the fighters as superior - in the vast majority of cases, championship matchups are the most high-level and high-stakes combat sports events possible.
And yet, when it comes to UFC 273, I don't think it's a stretch to say that each of the two title fights featured on the card are being totally overshadowed by one of their 3-round counterparts.
And believe me when I say, that while, sure, this does happen from time to time - the sheer gulf interest from the general public between the bantamweight and featherweight title matchups and the return of Khamzat Chimaev tells a very interesting story.
Because that interest doesn't come purely because of a magnetic personality or even an exciting fighting style - indeed those factors are in play with Khamzat - but this time around - moreso than anything else, the UFC have played this one wonderfully - taking the thing that made Khamzat stand out and building a step up in competition around it.
We've seen fighters in the past - and quite recently - jumping directly into high level matchups from other organisations - guys like Anderson Silva and even Jiri Prochazka - who skipped the low level contender fights to immediately step into a division's upper tiers.
Just like we've seen situations where a fighter on short notice has been plucked out due to a willingness to take an almighty risk in order to make a massive step up - Lando Vannata being my favourite example, as he made his UFC debut against Tony Ferguson - who was ranked number 3 at the time if memory serves.
Fast Track
But Khamzat's situation is a little different. Even before he bulldozed his way through a very reputable opponent in Li Jingliang to establish himself in the welterweight top-15 - the UFC were trying to make a matchup between him, as an unranked fighter, and the number 3 ranked Leon Edwards.
And in doing so, they were fully aware of just how much of a risk they were making with one of their most explosive potential superstars.
But what I love about that, and what I love about seeing him at #11 fighting Gilbert Burns - who is #2 - is that the UFC are fully willing to play a freakish game that completely ties into the type of fighter Khamzat wants to be.
Upon landing in the UFC - he quickly broke the promotional record for the quickest turnaround victory - by winning his next matchup just ten days later.
That was the early seed that started to blossom in the minds of the MMA fanbase.
And then after being set up for a third battle with Gerald Meerschaert - our expectations were once again completely subverted as Chimaev managed to score a thunderous knockout after just 17 seconds.
Now the devastating grappler with vicious ground and pound had proven himself to possess knockout power - and boy, did we start to get interested.
Chimaev's Near-retirement
And like any great story - there was a period of real despair and doubt after a particularly rough bout with COVID-19 threatened to bring Khamzat's career to an end - with Borz himself telling us that he was ready to quit.
Of course, it didn't happen, but in his time away - 13 long months to be exact - he somehow managed to reach a new level of stardom altogether.
During this time, they tried to put together a contest with Leon Edwards - a ridiculously huge step up in competition for a fighter who had only spent about nine and a half minutes inside the UFC octagon.
But somehow it made sense - and though the fight fell apart - the litmus test showed that people genuinely believed in this man.
And in sensing this, when Chimaev was finally fit to fight, the UFC wisely decided to give him an octagon return in Abu Dhabi - where he received a hero's welcome - one of the standout pops of the night.
And, of course, when the time came to fight - it was more of the same, but with a layer of theatrics that was absolutely perfect. We got to watch as Chimaev lifted a top-15 welterweight into the air and carried him across the cage while screaming at Dana White.
It was pure theatre - and given the growing reputation of the man in question - it's exactly what we were expecting.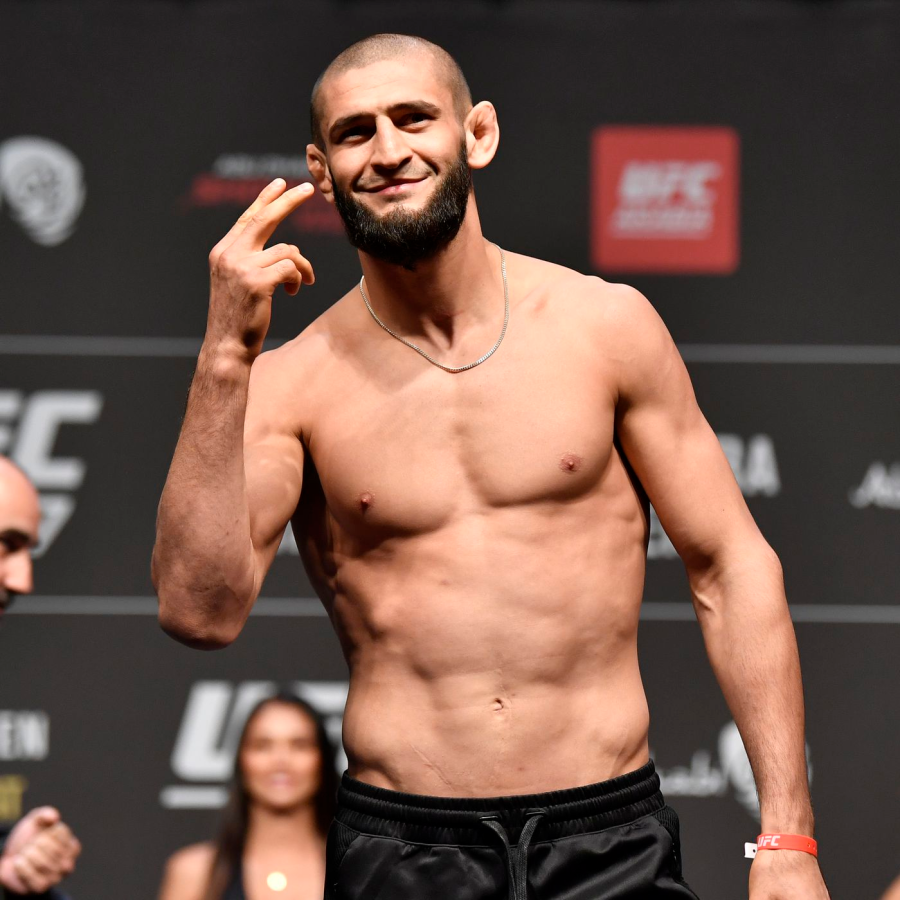 Living up to the Hype
Four fights in, and Khamzat has managed to post one of the most insane stat sheets you'll ever see - dishing out 192 strikes while only absorbing 2 in return.
And instead of opting to slow Khamzat's roll at this point in time - the UFC have given him the opportunity to follow through on his freakish momentum - and I must say, I actually love the decision.
So the title of this piece, calling this guy a freakish talent in a freakish scenario - I think it's pretty fitting and almost important to consider when taking in his story as a whole.
Whatever about the jump in rank between number 11 and number 2, again, let's not forget just how close we were to getting and unranked 1 and 0 welterweight fighter - whose other two wins were both at middleweight - taking on the #3 Leon Edwards.
It's totally freakish, but I actually think that every now and then, a fighter comes along who deserves the opportunity to dare to be great.
The UFC hold the power to make that happen - and in giving him a fight like Gilbert Burns - they are really not making it easy for him at all.
It's like 'yea, you still want a top-5 guy? Well we're going to give you a powerful, technical striker who while, sure you might take him down, but he just so happens to have the best jiu-jitsu in the top-15.'
That is ballsy matchmaking right there.
Because yea, while I think that Burns has a pretty strong chance of winning here - and I really do believe that - if Khamzat shows himself to be as great as we think he can be - the upside here for him, for his fans, and most importantly, for Dana himself as a promoter - it makes sense why they're going this route.
They've basically taken the thing that makes Khamzat so attractive to us as a rising prospect and built this fight with that in mind.
And I applaud them for that - because something you just gotta roll the dice.
Sure, the risk/reward factor isn't going to work out for every potential subject - but as far as Khamzat Chimaev is concerned, I truly do think the upside here is monstrous.