Articles
Khabib's Stand-Up Game is not that Bad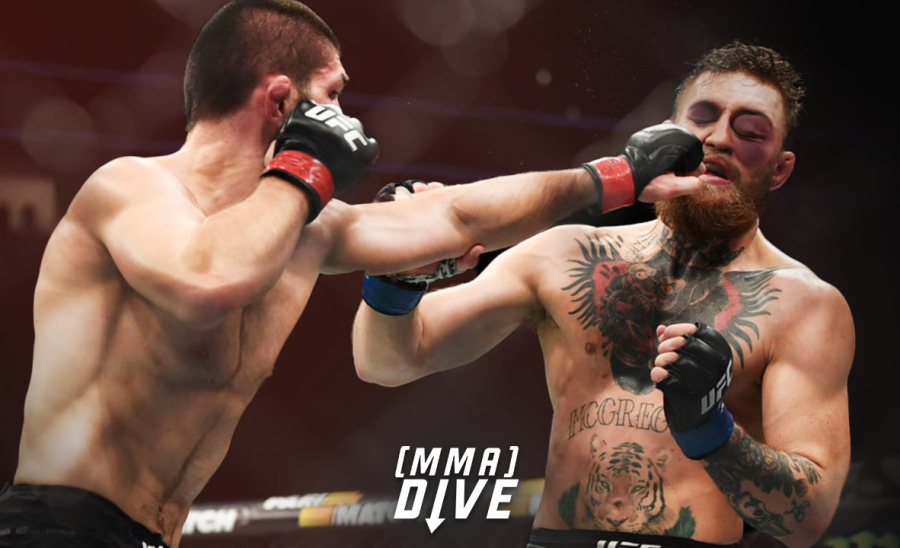 Note: this article is based on the video uploaded to our YouTube channel on 19 January, 2019.
Wrestling is the foundation of mixed martial arts. Six out of the eight current men's UFC champions have some sort of wrestling background. But it feels like a large proportion of the MMA fan community has shown a regal indolence to this reality. Although the wrestling infrastructure in the United States is sizeable, wrestling is not what you would call a commercially viable spectator sport. Nobody knew about Tyron Woodley and Ben Askren when they were on the University of Missouri wrestling team; now they are among the bigger names in mixed martial arts.
Thus, on some level, it is understandable that when fans see an undefeated fighter; a fighter who has never lost a round (and a contentious one, at that), they still view him as one-dimensional, simply because his stand-up striking does not look how they think it should look. His boxing doesn't please our aesthetic preferences. Never mind that he outlands his opponents 2.49 to 1 in significant strikes (as of today's date, according to Fight Metric).
He has faced the best strikers his division has to offer: Michael Johnson, Edson Barboza, Conor McGregor, and most recently, Dustin Poirier. He dominated every single one of them; even knocking McGregor down. It was the first time Conor had been knocked down in his MMA career, and it was by a guy whose boxing Joe Rogan called "amateurish" just one fight prior.
My question is: at what does what happen in the cage start to matter? When we know that every fight and every round starts on the feet, and that in spite of this, nobody has been able to exploit Khabib's supposedly terrible stand-up… shouldn't we start to question how we have been assessing his stand-up abilities?
In comes combat sambo. Khabib was world combat sambo champion in 2009 and 2010. Sambo competition operates under one of two rule sets: combat, and sport. Sport sambo is pretty close to what judo used to be, with some added influences from wrestling's point system. Combat sambo, however, has a much more open ruleset. In combat sambo, aside from the throws and joint locks you would expect to see in sport sambo, competitors are also allowed to throw punches, kicks, elbows; even headbutts and groin strikes. Americans (and much of the world) were introduced to mixed martial arts in the 1990s, but the USSR basically had MMA almost one hundred years ago, in the form of combat sambo.
However, because of divergent training methods and specific rules (namely, the point system and the time limitations), the stand-up exchanges in sambo are quite different from that of most modern MMA bouts, or at the very least different from the bouts that fans would consider entertaining. Sambists generally try to use strikes to set up throws (which the scoring system is skewed towards) or a favorable grappling situation on the mat (which can allow them to end the match quickly). They tend not to try to finish their opponent from a standing position; that is neither how they are taught, nor how they compete.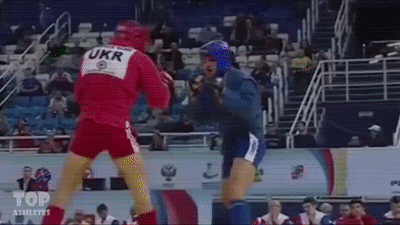 This is ultimately the dilemma faced us; the knockout-hungry mixed martial arts fan. The most talent-rich division in the sport is being dominated by someone whose fighting style does not please our sense of aesthetic. The vision of what we believe a "well-rounded" fighter should be is conflicting with the reality that someone who is supposedly "just a grappler," is dominating his competition.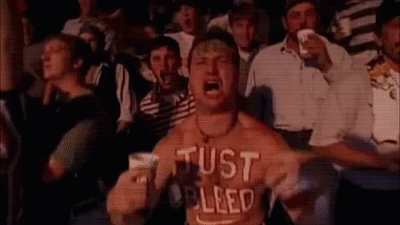 What we often do not recognize or concede, is the operative word in MMA: mixed.
Mixed martial arts. There are many sports where people can throw hands. Boxing, K-1 kickboxing, and so on. But mixed martial arts is special in that the rules are far more open, and this should (and does) result in a more eclectic variety of fighting styles. Wrestling is not disengaging or hugging. If you can take your opponent down, keep him on the mat, control him, and dish out damage to him, that's all within the rules, and doing that proves you are a dominant fighter. At UFC 229, Khabib won a fight with the most lopsided judge's scorecard in UFC title fight history, and throughout the fight, the most influential commentator in MMA went on and on about how his weaknesses had been exposed. This should be an indicator about how little weight this "one-dimensional" label truly has.
Three points are worthy of discussion:
1) Khabib's stand-up striking is perfectly adequate for an MMA contest. You don't have to be Saenchai or Vasily Lomachenko to be successful in MMA. The threat of takedowns opens up holes in his opponents' defence; he is more than able to take advantage of these openings. And when Khabib does land, there is power behind those hands.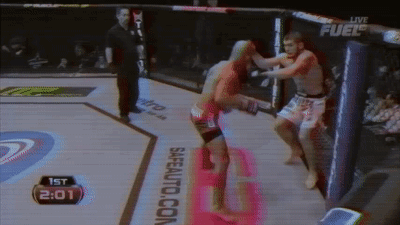 2) Khabib has a chin on him. He has not gotten caught very many times, but in those cases, it has barely even tickled him, Joe Rogan commentary notwithstanding.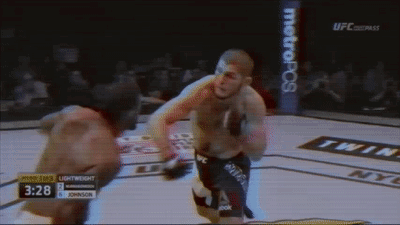 3) He's really not that bad on his feet. The overhand right he landed against Conor was a big talking point, but the sequence before that was just as significant and received far less attention.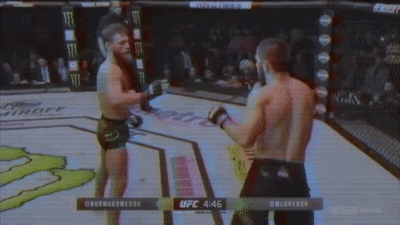 Conor throws a superman punch, Khabib slips it, lands a jab, and then circles to the left to avoid Conor's knee. This is all very impressive work, and it happened against one of the best strikers in MMA. Obviously, Khabib is not going to win a kickboxing match against Stephen Thompson, but he has enough tools in that department to help him win in MMA.
Speaking of winning, Khabib wins. He wins fights. He has won fights against high level wrestlers and grapplers, and he has won fights against high level strikers. He has won fights against top contenders as well as champions. His resume may not be the best in all of the sport, but he has had enough dominant wins against quality opponents, to where we should end this charade of waiting on some mythical fighter to "expose" Khabib. I am not saying he is unbeatable; no fighter is truly unbeatable. But if he does ever lose, it will not be because someone exposed him as a total MMA fraud. We are well past that point.
If you don't like his fighting style, fine. If you think grappling is boring, fine. If you'd rather watch Justin Gaethje, that's your prerogative. But questioning Khabib's abilities as an all-around fighter at this stage in his career is no less than delusional.