Articles
Justin Gaethje: The Businessman
Note: this article is based on the video uploaded to our YouTube channel on 23 April, 2019. Statistics and/or opinions found therein are reflective of the time at which they were written, and may no longer be applicable.
Watching Justin Gaethje fight seems like it should be forbidden. A Gaethje fight is arcane and profane; a pagan ritual masquerading as a sporting competition. It's as if the MMA world is offering a sacrifice to the gods of violence and bloodlust. And as much as the UFC has tried to clean up MMA's image – with TV rights, extensive drug testing, and the Reebok deal, Gaethje is a reminder of the true appeal of the sport to the vast majority of its audience. The masses want to see two men hit each other really hard until one of them takes a nap. That's exactly what Gaethje gives them.
His fights are incomprehensible to the mind as much as they are to the senses: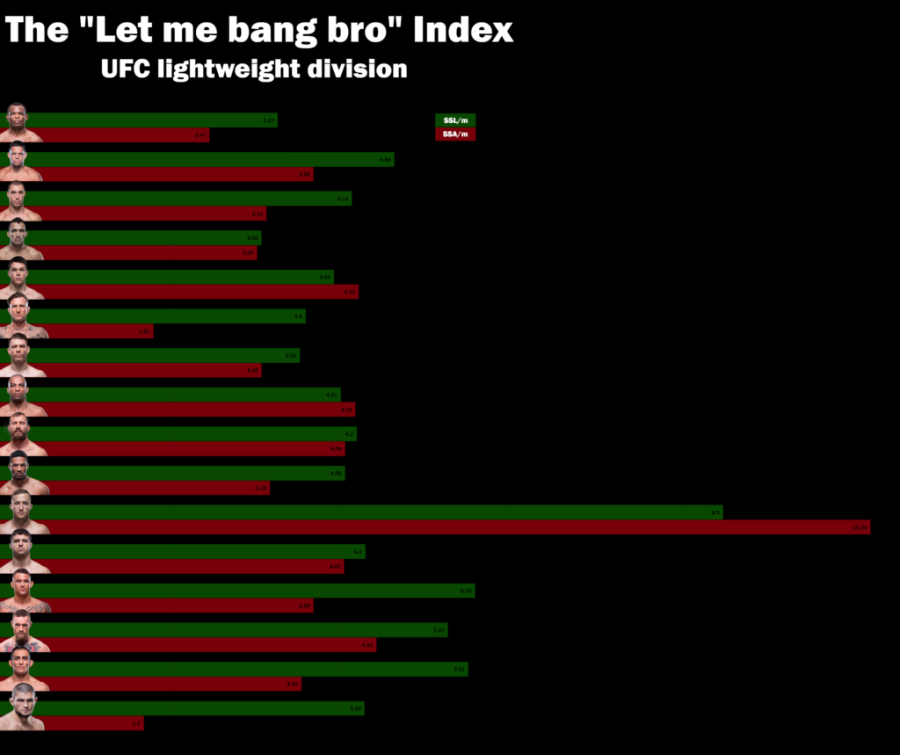 Gaethje lands 8.5 significant strikes per minute, on average. That's significant strikes; not total strikes. Meanwhile, he absorbs 10.23 per minute. Among the other top 15 UFC lightweight fighters, only two (??? And ???) get outstruck, and both of them still have a better strike differential than Justin. On per minute basis, Justin gets hit hard two times more often than he hits his opponent.
But the more remarkable part of this is Gaethje's sheer output. No other fighter is as active as him in the cage. Out of the aforementioned UFC lightweight top 15, Dustin Poirier comes closest to Gaethje's output, landing 5.59 significant strikes per minute, but that's nearly three whole strikes fewer than Gaethje. For Gaethje, his unprecedented exposure to dangerous blows is a price he must pay for being able to attack at a similarly unprecedented rate.
And this is where we begin to see a bit of the method behind the madness. Gaethje's output and constant pressure changes the entire nature of a fight. Gaethje treats the UFC cage as if it were the size of a phone booth; he is there to scrap, and his opponents, for the most part, willingly oblige. After all, Gaethje is so easy to hit; I would imagine the guys fighting him are so seduced by the idea of knocking him out that they can't see any better game plan other than to keep throwing everything they've got.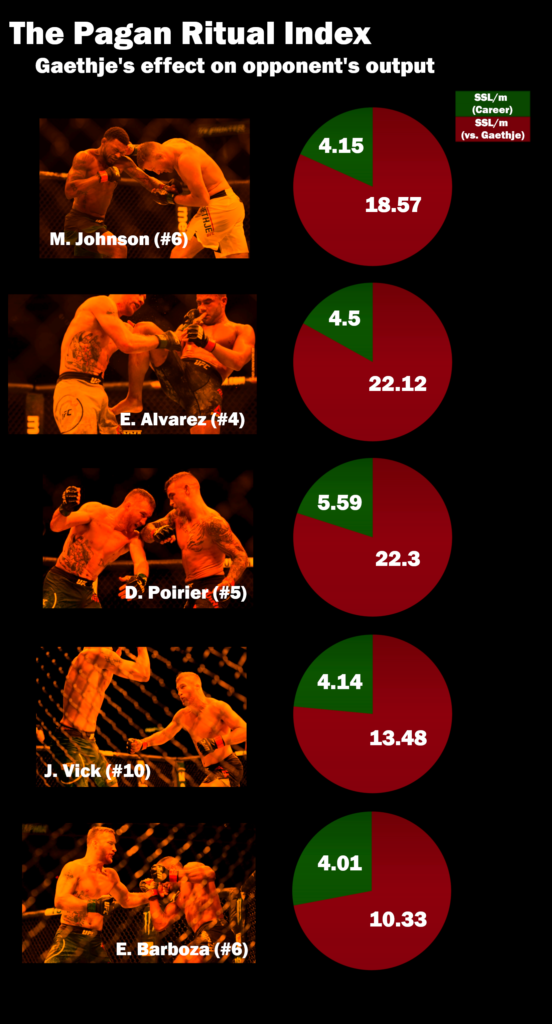 All of Gaethje's UFC opponents put up far more offense against Gaethje than they have otherwise done throughout their careers, sometimes eclipsing their career averages by more than four times. This is the statistical embodiment of an unprecedented willingness to bang, not only on the part of Gaethje, but his opponents as well. It's not just the audience who are intoxicated by the primordial violence of Gaethje; the fighters themselves can't help but get sucked into it.
Gaethje is not necessarily known for his fight IQ. But there is a strategy to his approach, and it starts with the weight cut. While Max Holloway, Khabib Nurmagomedov, and a lot of other fighters kill themselves to make weight, Gaethje fights at more or less his natural weight. He has not fought in California yet, so we have yet to see how much he weighs on fight night, but just judging based on appearances, he is definitely among the smaller lightweights. The lack of extreme weight cut gives him the advantage in quickness, speed, and stamina, allowing him to keep up his insane pace. Proper hydration has also helped him retain a rock solid chin. As such, he is willing to trade blows in part because he's confident he will get the better of the exchange, or at the very least do enough damage to help him in the war of attrition.
Much is made of Gaethje's regal indolence toward using his wrestling; he has only attempted one takedown through five UFC fights, landing none, and he has been outspoken on his preference to not wrestle in his MMA fights: "It gets you tired. If I'm going to get tired, I'd rather it be from fighting and not from wrestling. That's the reason why I never wanted to wrestle. … I just can't do it, it would not be fun for me."
It goes even deeper than just words, though. Take, for example, this sequence: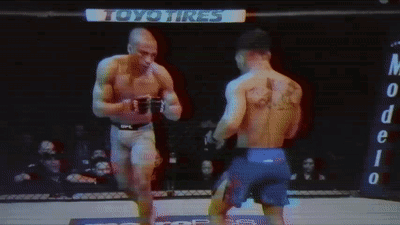 Edson Barboza nearly knocks out Kevin Lee with a spinning back kick. As he goes in for the finish, Lee – who is dazed and probably only half-conscious, instinctively goes for the double leg, buying time to recover. Lee eventually won by decision.
Here is another example: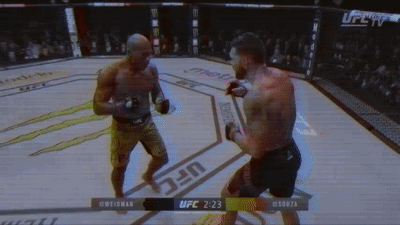 Jacare Souza pretty much knocks Chris Weidman out cold. And Weidman, in his concussed state, grabs Souza's ankle. In that moment, Weidman's two functioning brain cells told him: "grab this guy, hold onto him, give yourself a chance to recover." Now compare that to this: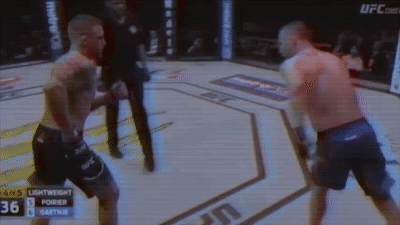 Gaethje has wrestled since he was four years old, but he decided to throw out a lifetime's worth of inculcated wrestling instincts, choosing instead to let Poirier use his face as target practice. At the same time, the Poirier fight pushed him to adapt his gameplan, ever so slightly, and he has since shown a greater willingness to, at the very least, use his skillset to his advantage in the clinch. He got in some good clinch work against Barboza, making the fight a close range affair and, thus, taking away Barboza's most dangerous weapon.
None of this may seem like a particularly brilliant plan, and indeed he is just 3-2 in the UFC, which at face value is not that impressive. But we have to step back and appreciate what Justin did in these five fights. Firstly, Justin did not have to slog his way through the prelims before getting in the good favors of the UFC matchmakers. His fighting style made him a fan favorite even before making it to MMA's premier promoting organization, and his time on the Ultimate Fighter helped him expand this fanbase. As a result, all five of his fights have been against top 10 competition, and four of them have been event headliners. Even more remarkably, he has earned a post-fight bonus in each of these fights, becoming the first in the UFC to do so. Gaethje has said that he does not need to talk trash to make a name for himself, and he has proven it. When it comes to being able to get the fights he wants, the raw appeal of his fighting style trumps everything else.
And this is where we see the brilliance of Mr Gaethje. Four fight of the night bonuses and two performance of the night bonuses add up to $300 thousand US dollars. That's already an impressive sum, but more important is the equity he has built with both fans and matchmakers in the span of these fights. The image of Gaethje as a madman has forever been cemented in our minds, regardless of what happens in the future. If, by chance, he continues to adapt his game plan, retaining his willingness to scrap while also showing more restraint and discipline, the fans will not go away. The technical brawler always has a place in MMA, and Gaethje is not lacking in technical ability; behind his stalking of opponents and spamming of leg kicks and haymakers, there is a true martial artist.
This is not to say that Gaethje is a cynic or a role player; there should be no doubt that this man fears no one and has no regard for his physical well-being. He has proven as much. Rather, this is merely to illustrate that Gaethje has an underlying strategy not only for his fights but for his overall career trajectory. And so far, he has executed that plan with surgical precision. Gaethje has been hinting at a title shot, and even some MMA media personalities have suggested that he would be a bad matchup for the current champion. I do not necessarily agree with that sentiment, but with the fights that Gaethje has gotten so far, and with the overwhelmingly positive fan response to his style, it is conceivable that he will get his title shot sooner rather than later.