Articles
Justin Gaethje possibly killed the dream of Khabib vs. Ferguson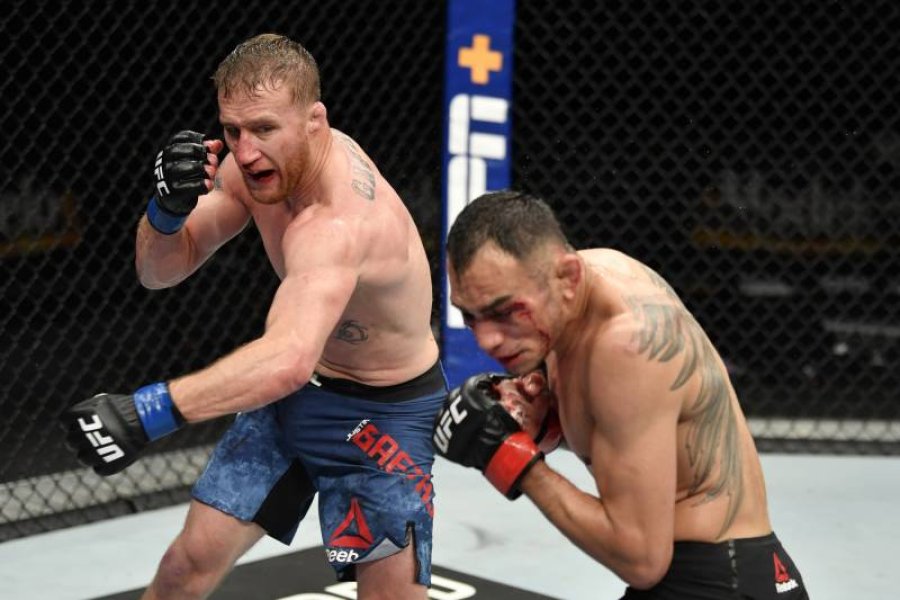 UFC 249 was an exciting card in a sporting environment that had otherwise been put completely on halt by the COVID-19 pandemic. It featured big names, exciting fights, and lots of finishes. However, it potentially struck a major blow to MMA history, perhaps threatening (and certainly, diminishing) the most highly anticipated matchup in the history of this young sport. In a shocking upset, Justin Gaethje (22-2) defeated Tony Ferguson (26-4) by TKO after a five round war of attrition, and in the process, threatened the future of Khabib Nurmagomedov vs. Tony Ferguson.
On the one hand, it is not certain if the UFC even wishes to proceed with that matchup at all. In the near future, of course, Nurmagomedov vs. Gaethje is the fight to make (Gaethje being the interim champion). But even if we assume that Khabib vs. Tony is still sitting in brine somewhere, Gaethje's impressive performance has removed much of its luster.
Heading into the originally planned UFC 249, which was set to be headlined by Nurmagomedov and Ferguson, the two men were to be the first pair of UFC fighters to face each other each with winning streaks of 12 or longer. This had never happened before in the history of the promotion. It also had the historical significance of serving to crown the consensus greatest lightweight fighter of all time. This would have been an unprecedented moment in MMA and UFC history.
With Tony now not only defeated, but battered and bruised, he may no longer be at peak form. At 36 years old and having taken serious damage over the years, can we still consider him to be a fighter in his prime? Or, from another perspective, could this have been the defeat which changes him forever, much like Lawler vs. MacDonald 2 was for Rory MacDonald?
Gaethje landed 143 significant strikes on Ferguson; this was both a career high for Gaethje in terms of significant strikes landed, as well as a career high for Ferguson in terms of significant strikes absorbed. Gaethje landed those 143 strikes from just 197 attempts; his significant striking percentage of 72 would have been a decent free throw percentage in basketball, let alone a strike accuracy percentage.
Gaethje's previous three fights had all ended in Round 1, and had lasted a combined 8 minutes, 15 seconds. The strikes Gaethje was landing cleanly and consistently on Tony Ferguson for five rounds would have been capable of putting away "normal" fighters. But Ferguson, one of the most durable men in the UFC, was rarely fazed by the onslaught. It is undeniable, however, that he suffered some long-term damage on Saturday night.
It may be that Ferguson's performance was compromised by the fact that he made weight for April 18th, the original date of UFC 249 (even though the event had been cancelled a week prior). I am no medical professional, but I cannot imagine it had a positive effect on his performance to endure yet another grueling weight cut and camp immediately after having made weight for a non-existent fight.
We do not know what the future holds. It is, of course, possible that Tony bounces back and returns to form. It is also entirely possible that he is never the same again, and that if his now mythical showdown with Nurmagomedov even takes place, it will be shades of when Wanderlei Silva and Chuck Liddell finally fought at UFC 79, by the time which both were well past their respective peaks.