Articles
Jiri Prochazka: Your New BMF Champ
There's a new sheriff in town - a new king of the light-heavyweight division that may well carry enough intrigue with him to spark a real upsurge in interest for the division.
Because let's face it, 205lbs hasn't followed the heavyweights into their recent new era - where a wealth of new contenders have found their way to the top of the pile.
No, the light-heavyweights in the post-Jon Jones era - and even during the tail-end of his title-reign - have certainly failed to capture the imagination of the public in the same way that heavyweight has - through the emergence of the likes of Francis Ngannou, Ciryl Gane, Tai Tuivasa, Tom Aspinall, and more.
But last weekend, the one fighter who is best suited to lead 205 into its new era managed to pass his greatest test - capturing UFC gold in one of the greatest five-round title fights you will ever see - emerging as the youthful, electric, and magnetic champion the weight-class has been screaming out for for years now.
All of the champions who have ruled since Jon Jones first captured the belt have been ageing fighters - Daniel Cormier, Jan Blachowicz, Glover Teixeira.
All excellent fighters in their own right, don't get me wrong - but not the new blood that Jiri Prochazka is.
A Master Class on How to Gain Fans
And prior to this fight, one of the main questions I had was just how much Prochazka could make the general public latch on - and in particular, how the casual fanbase would react - them being, of course, the overwhelming majority of those who tune in.
Because, I think coming into this bout - the hardcores were on board, ready to accept Jiri Prochazka as one of the most promising wildmen in the sport today.
But after a fight like that, it will take a bit of time to get a read on where exactly Prochazka stands.
He's not a pay per view draw at all just yet - but I do believe that he's showing potential to be a member of that group of fan favourites where the likes of Justin Gaethje, Tony Ferguson, Nick Diaz and so on reside.
Except, and here's the real kicker - Jiri Prochazka, after Saturday night, is the UFC light-heavyweight champion of the world.
And though he was forced to overcome some extreme adversity to get to that point - that accomplishment alone places him in a very exclusive category.
Cut From a Different Cloth
We've seen many fighters over the years bringing different aesthetics, different forms of style and presence to their out of octagon reputation.
Great fighters, good fighters, not so good fighters - it can often be funny to look back on this sport's history and note exactly what it is that sticks in the memory.
Because when you do find a fighter who is truly unique in every facet of their being as a martial artist - and they're able to carve out success in the cage - that for me is quite thrilling.
Guys like Lyoto Machida, Anderson Silva, even Tony Ferguson to some extent - these fighters that just seem like they're practicing exactly what they preach - something that is proven beyond any doubt by the results they achieve in the cage - and the manner in which they go about achieving those results.
They're like a call-back to the long-held traditions of martial arts - modern day ninjas and samurai who have taken our almost fairy-tale-like notions of what a martial artist is, and applied their own unique flavour to them - competing with great success at the highest of levels
Jiri is clearly the next in this bloodline - the next innovator who doesn't evolve the game through what they bring to the MMA meta or exploit within it - but stands alone due to the near-impossible task of trying to replicate what they do.
And that fight with Glover Teixeira - man, Prochazka somehow managed to do his thing, that undeniably Prochazka-esque thing, sustain it over five rounds, and beat the champion of the world - not only through his ability to nullify Glover's greatest strengths just enough to outlast him - but by somehow tapping the holder of the most submission victories in 205lb history.
And he did this in a crucial round he was losing, with just 30 seconds left on the clock.
That's just silly - silly good. A truly ridiculous title-winning performance - in a fight that was just so silly good - and I'll use that term repeatedly here - because even as I watched it back, knowing the result, I just couldn't get over how wild it was - not just in terms of the action - but also the momentum, the dynamic between both guys and, of course, the outcome - that silly good outcome.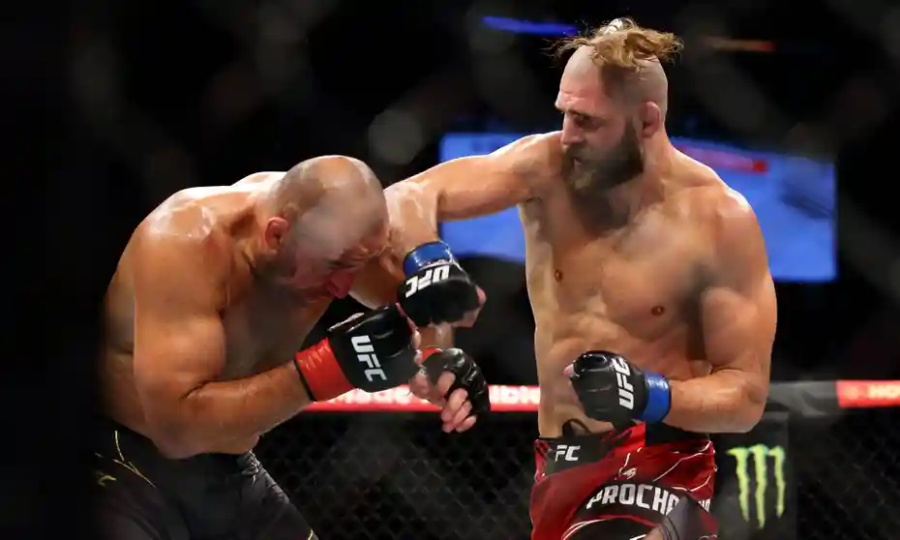 The Real BMF
Jiri Prochazka seems like he's primed to be a major sensation for the UFC - but only time will tell how much he can grow in terms of the promotion's flagship stars.
What I will say, at this point in time, is that - while the entire concept was totally stupid - I feel as though Jiri Prochazka embodies exactly what it was that we wanted out of the BMF title that was contested by Nate Diaz and the eventual winner, Jorge Masvidal.
If we're talking about finding that balance between carefree badassery and high-level results - could it be said that Jiri has now overtaken the likes of Justin Gaethje for that top spot?
Guys like Charles Oliveira, Max Holloway, Khamzat, these guys do something similar - but it's not this - it's nothing to be compared with Jiri Prochazka's unique brand of chaos - how willingly he sets that tone - how it ends up totally absorbing the contest.
Sure, it's only three fights into his UFC account - but as the 205lb champion of the world - riding an eleven fight streak of knockouts - he has found his way to the top of the sport - and now, though the matchups that lie in front of him aren't exactly going to set the world alight in terms of major appeal to the masses - Jiri doesn't necessarily need marquee names right now to build off what he was acquired for himself.
I would say that he, of course, needs to make some adjustments here and there - even if he has proven himself to be a remarkable quick-thinker when it comes to adaptations.
His grappling is also better than expected - and his cardio has proven to be a major weapon when it comes to outlasting his opponents in a fight that is going his way.
Will that work on the likes of Magomed Ankalaev? Well, my first prediction would be no - but in that chaos that Jiri creates - anything can happen - and I would always be inclined to give Prochazka a good chance of winning any fight based on his clear skill for making things chaotic.
For now, with the potential for a Jan Blachowicz fight ahead - I'm content to just sit back and enjoy the ride - because win, lose, or draw next time around - one of the more interesting title-reigns of the era has just begun.