Articles
Jake Paul being favored over Ben Askren is a farce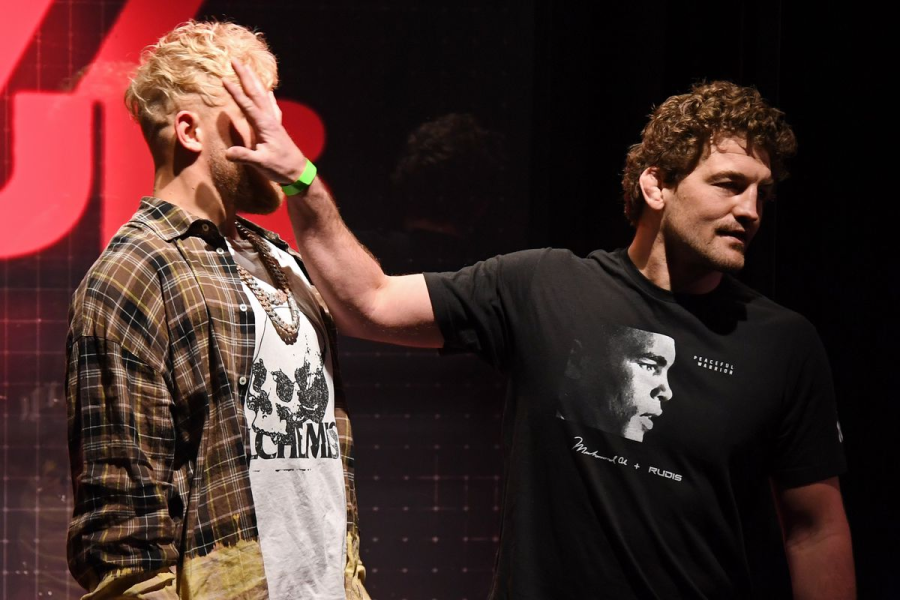 YouTube celebrity Jake Paul is favored to beat former Bellator and ONE FC welterweight champion Ben Askren in a boxing match scheduled for this evening.
I am not learned in the world of gambling, and thus I could not tell you whether Paul is favored heavily or slightly, to save my life. However, I can tell you that it is an absolute farce that he is even favored to begin with.
Yes, I realize that betting odds are based, in large part, on trends. Meaning, they will react to where the public is putting their money. But the fact that so many have faith in Paul beating Askren, is in itself a farce.
Of course, if such discourse were limited to the confines of Jake Paul's own fanbase, it would not be such a surprise. However, when such views seep into the fortified perimeters of MMA fandom, that is when it becomes concerning.
Did we somehow forget that there's levels to this? Did we somehow forget the immense gap in skill and experience between these two men?
Ben Askren, until a very short while ago, was undefeated in mixed martial arts. He was a champion in two major MMA promotions. Before that, he was an Olympian, representing the US freestyle wrestling team at the Beijing Olympics in 2008. He has a combat sports pedigree unmatched by most, even many of those who are at the apex of MMA.
Now, the response to that would be that, firstly, Askren achieved what he achieved in MMA thanks to his unparalleled wrestling, not due to his boxing skill, and secondly, that Askren has some serious health concerns. Indeed, his striking was never good relative to his peers, and yes, he retired in order to get hip surgery; a surgery he had been putting off for some time.
These are valid concerns, but at the same time, we must remember: Askren suffered just one knockout in his career, by means of a knee that would have knocked out anyone, and in a situation (double leg attempt) that will surely not come up in his boxing match against Jake Paul.
He fought, and beat, professional killers, including skilled strikers like Douglas Lima and Robbie Lawler. If Robbie Lawler could not put Askren away, wearing 4oz gloves, is it not safe to say that Jake Paul cannot do any serious damage on Askren, wearing 12oz gloves?
As for Askren's path to victory, it's not a complicated one. Askren is the professional athlete, not Paul. Askren is the former Olympian, not Paul. Askren is the one who has fought professional killers, not Paul. All Askren needs to do – and conceivably, will do – is clinch Paul, smother Paul, frustrate Paul, and force Paul to carry his weight early in the fight.
This will stifle Paul's offense, and then, as the fight drags on and as Paul is more fatigued (and his technique, more sloppy), Askren could – conceivably – let his hands go and stop the YouTuber.
Is this really such a farfetched scenario? Is it really so avant-garde to suggest that the real-life fighter defeats the YouTuber using his extensive experience, skill, and grit? Or are we to make our assessment based on GIFs of Askren's spinning back fist against Demian Maia?
Former NBA big man Brian Scalabrine may offer some insight into this case study. Scalabrine was in the NBA for ten years, and was a benchwarmer for the entirety of those ten years. He could not even make an NBA team's rotation, let alone be an impact player. And yet, as countless YouTube videos would bear witness to, he has made it a hobby to style on young players in pick-up games; not simply defeating them but vanquishing them, and with minimal effort.
And what does he like to tell these young men, after the game? "I am closer to Lebron than you are to me." Meaning, the gap in skill between even a skilled collegiate basketball player, and an NBA benchwarmer, is unfathomably wide.
We should not pretend that such a gap does not exist in combat sports. If anything, the proliferation of MMA as a sport should be in the service of spreading the understanding that this gap should be respected. And thus, I believe with all my heart that Ben Askren will go out there tonight and prove to millions of viewers, that there are, indeed, levels to this game.