Articles
Francis Ngannou's Quest For A Rematch With Stipe Miocic
Throughout his short career Francis Ngannou has reigned terror upon the heavyweight division. Knocking out nearly all the opponents he has faced in devastating fashion.
But Ngannou has not gone without facing adversity in his career. After an embarrassing title match to Stipe Miocic, he had to fight his way back to the top of the heavyweight division.
Now that Francis is in the mix for the title again, he is on a quest to earn a rematch with Stipe Miocic. It has been a great story to watch unfold and it is far from over.
Here is a quick rundown of everything that has happened with Ngannou leading up to this point.
Ngannou's First Run
From his first fight until he fought Miocic, Francis had one of the fastest rises to stardom in MMA history. Ngannou went 6-0 in his first six fights all by devastating knockout. Which included first round knockouts of two former world champions: Andrei Arlovski and Alistair Overeem.
He showed vicious power in his hands and looked unstoppable. This streak of knockouts led to an inevitable match with then-champion Stipe Miocic.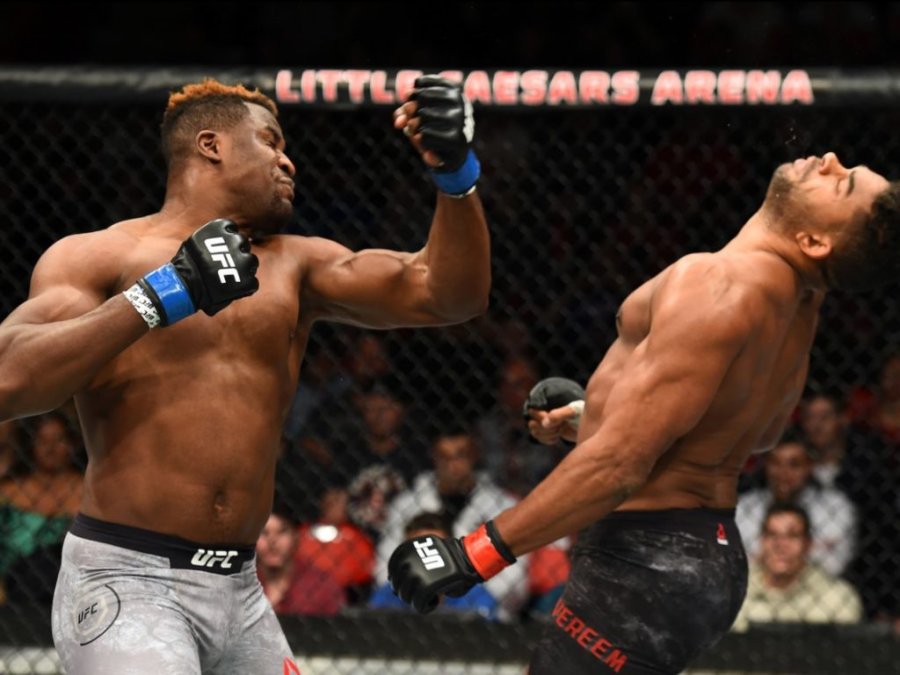 Ngannou vs Miocic 1
Going into this fight, Francis Ngannou had all the momentum and hype on his side. He was a heavy fan favorite going in against the reigning champ Miocic.
But fans really underestimated the abilities of the champ Stipe. Miocic was also on a five-fight win streak--all by knockout.
In the title fight, we saw the seemingly unbeatable Francis Ngannou get outworked by Stipe Miocic for five rounds. For five rounds, Francis was taken down and beating nearly every minute of the fight, only hurting Stipe a few times.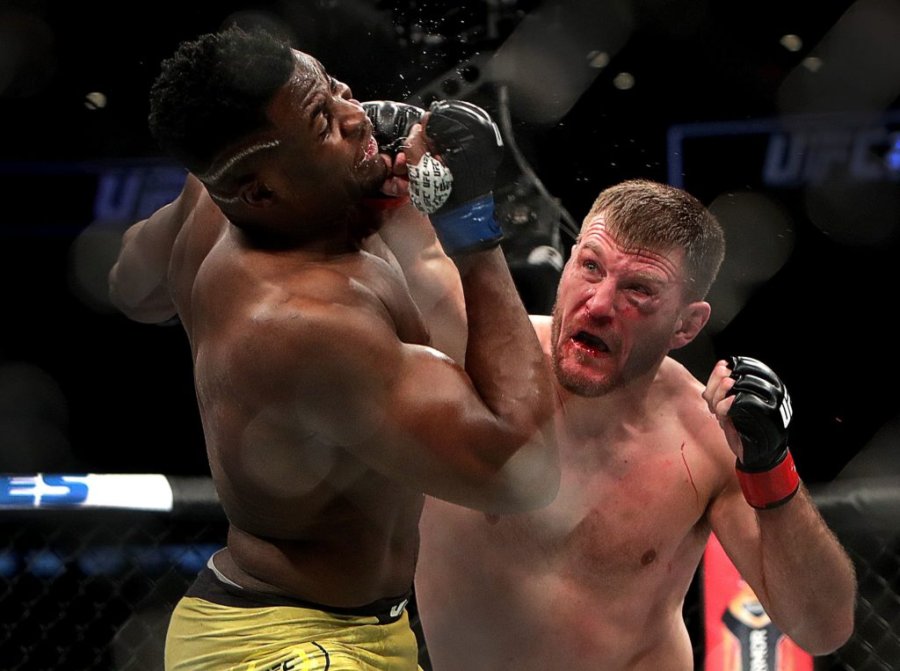 This was an embarrassing loss for Ngannou. Being dominated and having his below average jiu jitsu game exposed, his mystique sort of faded after that fight.
Ngannou vs Lewis
After suffering his first loss in the UFC, people wondered if Francis would bounce back. He was set to fight fan favorite Derrick Lewis in what was assumed to be an exciting fight.
Both had gone back and forth on social media before this fight promising to knockout the other.
Instead what we saw was one of the worst fights of 2018. Both fighters were tentative and nervous about the other's power. They circled each other with Lewis only pressing the fight a few times.
The fight ended in a lackluster decision win for Lewis. Ngannou was clearly afraid to exchange, still not mentally over his loss to Stipe. Lewis also had a slew of injuries going into the fight and looked like he could barely move.
Francis' Uncertain Future
After two straight embarrassing losses, fans questioned Ngannou's heart. Some doubted if he'd ever fix himself mentally.
Francis even admitted, "I have carried my fear from the last fight to this one," he said after losing to Lewis. 
It's not often you hear a fighter admit they had fear after a loss. This brutally honest self-assessment showed that there was a possibility he could return to being a feared heavyweight.
The Rebirth of Francis Ngannou
Five months after losing to Lewis, he was booked in a rematch against Curtis Blades in November 2018. We didn't know if we were getting a timid Francis or the feared knockout artist he once was.
Blaydes was confident he could avenge his knockout loss against Ngannou. He was sure he could take advantage of Ngannou's questionable heart this time and dominate him.
Francis knocked Blaydes out in  45 seconds and showed a glimmer of the fighter he once was.
Just three months later, he would get the second biggest test of his career fighting Cain Velasquez, arguably the best heavyweight of all time. It was a dangerous fight for both. For Francis, going against a former champ and for Cain, fighting a powerful striker after a 3 year layoff.
Ngannou again showed his unbelievable power knocking Cain out in 26 seconds. Francis showed that he was back. Francis showed his ability to battle adversity and come back an even better fighter, both physically and mentally.
After knocking out Cain, he called for a title shot, but was booked to fight Junior Dos Santos in June. The winner of this fight would probably be the #1 contender to fight for the title.
Again Francis dominated another former champion, knocking Junior out in the first round.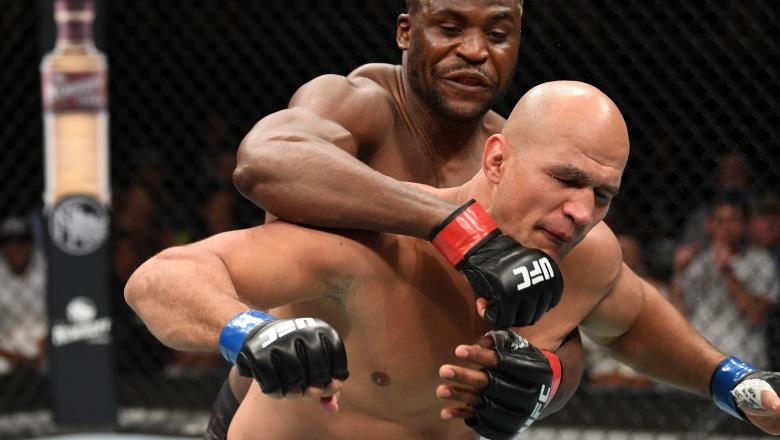 In 3 fights this year, Francis Ngannou has barely fought 2 minutes--KO'ing 2 former world champions.
Francis shared what had changed since winning 3 straight fights, "The difference for the last three fights was maybe me having fun, finding myself." (via BJPenn.com)
After the two losses, he realized he wasn't having fun like he once was. Ngannou started enjoying fighting again and it changed everything.
Now, Ngannou is patiently waiting to hear when his title shot is.
Ngannou vs Miocic 2?
Francis believes he is the next fight for Stipe Miocic, but there's a few issues stopping the fight from happening.
After their meeting, Stipe fought Daniel Cormier twice. Losing the first fight, then gaining back his title in the second fight.
Cormier is calling for a third match to complete a trilogy, while Stipe is turning it down. Miocic is trying to set up a big money fight with boxing world champion Tyson Fury. This came about after Fury expressed interest in fighting in MMA.
Ngannou believes that he is owed a title match proving himself after 3 straight first round KO wins.
Ngannou vs Johnson?
Anthony Johnson is rumored to be coming back to the UFC next year in the heavyweight division. Both he and Ngannou have expressed interest in fighting each other.
Johnson is hoping to make is return in the Summer, so maybe we will see these two fight soon.
Possible Fight News 
Yesterday (Nov 18th) Francis posted a photo from the UFC headquarters. Claiming he had a productive meeting and fight news is coming soon.
When the news breaks we will let you know and see who Ngannou's next fight is against.