Articles
Francis Ngannou might not have improved, but does it matter?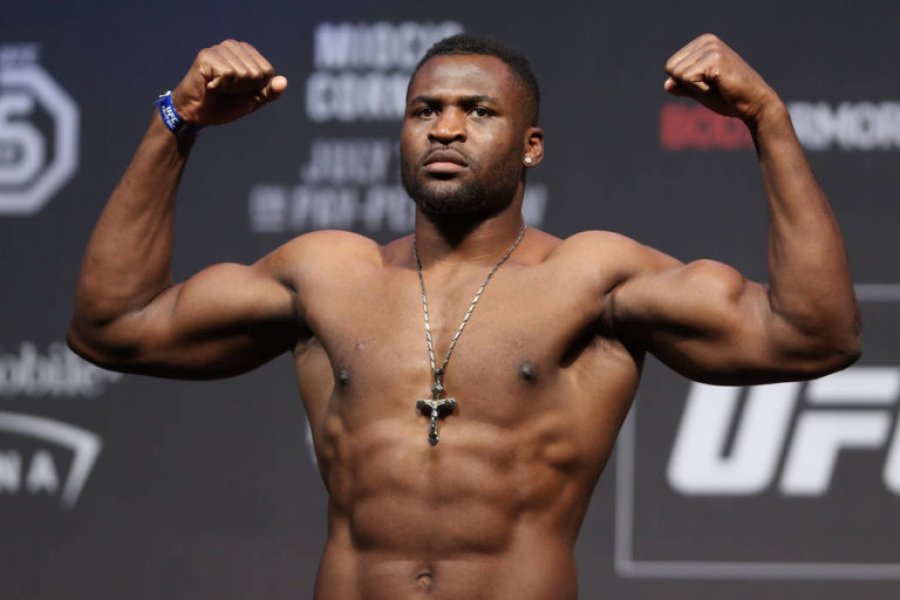 We should not lie to ourselves. Nature favors some over others. Francis Ngannou is the personification of this; he just so happened to be blessed by God with RPGs for fists. What's amazing about his career arc is that we still truly don't know how good he is. He was signed by the UFC in 2015 shortly after he began competing (or even training) in MMA, and won some fights, mostly by TKO. And then he got a step-up in competition, facing veterans Andrei Arlovski and Alistair Overeem. He finished Arlovsky with punches after just 1 minute, 32 seconds, and publicly executed Overeem within just 1 minute, 42 seconds.
His knockout of Overeem propelled his hype level into the next stratosphere. He was the next big thing in what was perceived as an otherwise aging, declining heavyweight division. Joe Rogan went so far as to compare him to Mike Tyson. The comparison was never a fair or a rational one, but we have to cut Joe some slack. We lost our minds watching Ngannou send Overeem to the shadow realm. But we merely saw it through a screen. Joe saw that war crime in person.
Less than two months after beating Overeem, Ngannou was fighting for the title against Stipe Miocic, the longest reigning UFC heavyweight champion in history. After threatening Miocic early, Ngannou was taken down and more or less manhandled for five rounds. Miocic cruised to a unanimous decision victory.
It was Ngannou's first loss since signing with the UFC. But more than that, it left him completely shell shocked. It was a completely new experience for the Cameroonian fighter, and a rather unpleasant one.
In retrospect, it shouldn't have been all that surprising. Ngannou had never even fought past the second round; not in the UFC, not in any organization. And there was absolutely no indication that he had any degree of takedown defence or defensive grappling ability. We had never seen him in that situation before.
After Miocic, Ngannou fought fellow knockout artist Derrick Lewis at UFC 226, but what was anticipated to be a violent slugfest turned out to be one of the most uneventful fights in the promotion's history. Lewis won the fight via unanimous decision by virtue of just barely being more active than Ngannou. But it was clear that Ngannou was not the same as before. He was cautious; almost scared.
Then came UFC Beijing. Ngannou finished Curtis Blaydes in 45 seconds. A few months later, at UFC on ESPN 1, he retired Cain Velasquez, knocking him out in a mere 26 seconds. He then finished Junior Dos Santos in 1 minute, 11 seconds at UFC on ESPN 3. And last Saturday, at UFC 249, in an empty arena in Jacksonville, Florida, Ngannou took just 20 seconds to publicly behead Jairzinho Rozenstruik.
2 minutes, 42 seconds. That's how long Francis Ngannou's last four fights have lasted. It is safe to say that Ngannou has vanquished Francis. Even if we are to assume that Cain's health was compromised, all these fights are against top level competition. And with Cormier retiring after his upcoming bout, I can't see a good argument against letting Ngannou try to avenge his loss to Miocic.
But the thing is, aside from having his confidence back, what do we know about Ngannou as a fighter that we haven't already known for years? In what ways has he been tested in his last four fights that he hadn't been in his earlier UFC fights? The truth is, we really don't know if Ngannou is a better fighter than before.
But what makes the Ngannou question so interesting is: does it even matter? In his current form, with his power and explosiveness alone, he is a high-level contender. Six month of sprawl training and a leg kicks (which he has presumably been doing) makes him a championship-caliber fighter.
Although the involved parties are in talks about Miocic vs. Cormier 3, the most interesting heavyweight matchup in the UFC going forward will be Miocic vs. Ngannou 2. This is the fight which has the potential to answer all our questions.