Articles
Adesanya vs. Pereira Is Actually Kinda Perfect!
UFC 276 was an event that served up quite a few talking points - but I do think that one of the major realisations that is dawning on the general public is one that relates to the middleweight champion Israel Adesanya.
The weight of expectation on any champion's shoulders is no joke - but there is a real disconnect between our assumption of what a champ should be - what they should represent - and what the incentives are.
You do see fighters in MMA - and also in boxing, which may be an even greater reference point - who rise up through their early stages - looking hungry, aggressive, and ready to assert themselves - fast-tracking their own progression by any means necessary - especially with the statements they deliver inside the cage, ring, or octagon.
Playing it Safe?
And Israel Adesanya was no different - with his destruction of Derek Brunson, the all-time great war with Kelvin Gastelum - and his eventual capture of the title against Robert Whittaker.
But as championship status is finally earned - you do often see a fighter become more reserved - more aware of their position as the man to beat - the one who has hundreds of prospective fighters aiming at him.
And with fighters like Jon Jones, Georges St-Pierre, José Aldo and so on - you did see how they settled into their role as champion - not putting so much emphasis on drawing attention because, once you're champ, you're unavoidable.
And the money, the guaranteed pay-per-view points, the sponsorships, even the general platform you have - the power plays you can engage in - holding sway with the promotion.
These are things that come with having that belt in your possession.
But above all other things - your legacy in a state of constant growth and development. You have reached the very, very top - and your claim at being the very greatest fighter in your division will hold some serious weight up until, well, you slip up.
And through the six UFC fights Israel has had since TKO'ing Robert Whittaker - it's pretty fair to say that there has been more than a few fans who have gotten on his back after a number of slow, methodical, and cerebral performances.
I personally don't see it as an issue - I think there's a lot to be said for a fighter's ability to shut down an opponent - and it's more on the opposition than on Izzy to risk it all.
But when you look at the Yoel Romero fight, the Marvin Vettori fight, this most recent matchup against Jared Cannonier - and even his 205lb debut against Jan Blachowicz - you're never really seeing Adesanya step his gear up and look to put a stamp on things - even in the case of the Blachowicz loss, the Whittaker rematch, and to some extent, the Romero bout - fights that he can't have been overly confident he was winning conclusively.
And that is certainly something that we've come to associate with Izzy.
He fights his own fight - and if you're not able to make him fight yours, good luck closing that gap.
Again, I enjoy the Cannonier fight because it's a very, very rare thing for me to not enjoy a fight of great consequence.
Protect Yourself At All Times
Usually, in bouts like Adesanya vs. Romero or Woodley/Thompson II, or even Ngannou vs. Lewis - while it's happening live, I'm still on the edge of my seat because of what may happen.
It's then a hindsight thing when I question the entertainment value of the bout.
But I would never begrudge Israel his fighting approach. He did what he had to against Cannonier and took home yet another title defense - even if he didn't set the world alight in doing so.
And I totally understand the line of thinking that would have some people openly question why Stylebender wouldn't just make his reads, understand the clear gulf in striking ability - and do his best to get his opponent out of there.
But it's a risk calculation thing - and as I said before, being a champion has some major perks - financially, professionally, and for your legacy.
However, with us all now pretty firmly aware of what Adesanya is and what he will bring to the table for his contenders - it has never been more apparent that the 185lb division is going to need to produce a new challenger for Adesanya who brings something a little different to the table.
Look, it's far from the strongest division in the UFC - and I would anticipate over the coming years that we will see a lot of the older stock in the weight-class pushed to one side - but right now, in the immediate future - I can't understate how much Israel Adesanya's standing with the public would benefit from getting an opponent who has the means to take him out of his regular game.
Because we've seen a few relatively similar defenses - and while I, and I'm sure a lot of you, love watching this guy do his thing - variety is the spice of life and seeing him mix it up certainly wouldn't hurt.
A New Challenger Emerges
So here's where it gets interesting.
I was never too convinced that Alex Pereira was going to make it to the top of the division.
There were just too many roadblocks in his way - his age, his inexperience with everything bar what he had known from kickboxing, and the undeniable feel for the many facets of mixed martial arts that are pretty integral to being a fighter in the top flight.
But I think the UFC were wise to push him in this manner.
Because, look, as much as Sean Strickland was probably the best matchup for him in the top-10 - to go out there and get a first-round knockout against the number 4-ranked middleweight in the world - you are, at the very least, in contention for a crack at the belt.
And to Pereira's credit - he did exactly what he had to do - blasting Strickland with the very same left-hook that he once caught and knocked out the current champ with - giving the general public something to latch onto ahead of this inevitable third fight across two sports.
Look, the UFC have never tried to hide the fact that they were bringing Pereira to the UFC for this exact reason - to give Adesanya an opponent with history - one that presents real danger is he's not careful - a man who has a proven track record at rendering him unconscious.
It's a rare thing to see a fight like this materialise - I think the closest I can name off the top of my head is when Valentina Shevchenko defended her belt against Joanna Jedrzejczyk - after she had beaten her three times in Muay Thai - if memory serves.
But this opportunity for Pereira works both ways.
If we're talking about getting an opponent for Adesanya who he all but certainly have to mix it up on - an opponent who could well bring out some type of emotional reaction from him - to have Pereira brought to you on a platter is certainly that.
And I say 'on a platter' because of how I would imagine a lot of you might see this fight - given just how inexperienced Pereira is with the cage, the gloves, and anything resembling wresting and grappling.
However, there is some real competitive appeal here.
That left-hook is no joke.
His ability to be truly deceptive in there is no joke - and I think it goes without saying, that Pereira became a better kickboxer in the time after his pair of wins over Adesanya.
And, of course, as Israel himself said on multiple occasions - if you actually watch the fights, you'll see that things weren't as cut and dry as the 2 and 0 would have you believe.
But doesn't that make it that bit more suitable for MMA?
Because Israel will be expected to have the upper hand here - just as he did in moments in the ring - and yet, even with all of his technical mastery, Pereira still caught him - still managed to find his off-switch, creating a viral moment that has 13 million views on YouTube.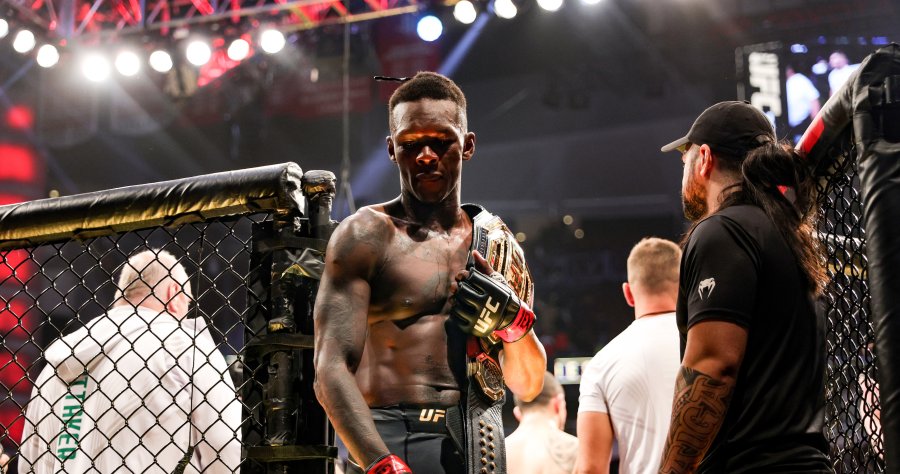 How could Adesanya Approach this Fight?
In MMA, the pressure will naturally be on Adesanya as he looks to get one over on his former foe - but even if that's going well for him, Pereira's clear ability to find his mark does not leave much room for error - especially in 4oz gloves.
And yea, it did take a while for me to come up with my own spin on this fight and its narrative - but I realised after the Strickland fight - how eerily similar this could turn out to be, to the kickboxing moment that brought us here.
I'm backing Adesanya to get the job done, of course - but I am very curious to see just how different this fight looks to his matchups against Cannonier and Vettori for example - guys who weren't going to match him in the striking department.
Does he give Pereira a slow, drawn out battle - something that may give him several opportunities to land?
Or does he lean on his wrestling and grappling - opting to showcase his development as a mixed martial artist - similar to what Francis Ngannou did to Ciryl Gane?
And will his pride allow him to do that? Is that a factor?
Because if the UFC bring you an old flame from your kickboxing days - a guy who embarrassed you once before. With the cards stacked in your favour, do you go out there and try to definitely prove that the punch he landed was a fluke - in a fight that was not going his way?
And that to me, could be the type of mentality that finally forces Israel Adesanya to play with fire.
Because unless he does do the quote unquote 'correct' thing, and mix in some wrestling - this fight is not going to look anything like what we've become accustomed to seeing from him.