Articles
5 Performances That Proved Alexander Volkanovski's Greatness
I think there's a very credible argument to be made that Alexander Volkanovski is the single greatest mixed martial artist on the planet.
The pound for pound question was front and centre in my mind as both Volkanovski and Petr Yan prepared to compete at UFC 273.
With no disrespect intended to Kamaru Usman, I felt like the number 1 athlete in the sport was fighting on that event - and though Yan lost in a surprising turn of events against Aljamain Sterling, he's not totally out of the conversation in my eyes.
But through his shut out of the Korean Zombie Chan Sung Jung - Volk sealed himself as the sport's top fighter in my mind.
And with that being said, here are 5 performances that proved Alexander Volkanovski's greatness!
Chad Mendes
This, for many people, was the first major introduction they got to the future featherweight king. Chad Mendes had just secured a huge first-round knockout over Myles Jury to re-establish himself in the 145lb mix. And coming into this bout, we had every reason to suspect that Mendes would be able to regain his footing in the title-picture. But during this time, Volk was quietly building his momentum - showing us during a five-fight streak of UFC wins that he was headed in the right direction. And this bout was an absolute joy to watch. Mendes certainly proved his elite calibre in moments - but for me, watching as Volk moved to slowly overwhelm his opponent was a wonderful signifier of what was to come. Chad really had some big moments - even knocking down Volkanovski at one point. But even though we know him now as a methodical operator - there was a battle readiness to the future champion in this fight that really shone through in his tougher moments. Even as it looked like Mendes was finding his momentum, Alexander The Great would beckon him onwards - relishing the heat of the battle that was thrust upon him. And by the time the mid-point in the second round came, just minutes after being dropped, Volkanovski was proving his mettle - applying extremely heavy pressure - throwing a barrage of strikes whenever he found his range - mixing it up to the body as well - finding his mark more often than not. When the finish did come, it proved to be a passing of the torch - as Chad Mendes retired from MMA there and then - and Volkanovski progressed into that top-5.
José Aldo
This victory is one that has aged like fine wine. Watching it in real-time, what we assumed we saw was an ageing José Aldo being shut down by a fighter who was hungrier, more modern, one who was ready to feed on an old veteran reaching the end of his days. In reality, the version of Aldo we got here was a truly excellent fighter - and as our knowledge of Volk's incredibly unique feinting game has improved - we can now go back to this fight and have a more clearcut understanding of just how impressive it was. This José Aldo would go on to prove his longevity with a stunning run at 135lbs - but we didn't know just how close to his prime he was here. And knowing that, really does make this win stand out. Aldo just never got going and in many ways, he had his systems overloaded by his opponent's constant twitching feints and pressure. And that really was the story of this fight. Volkanovski turned in a tactical performance against one of  the most tactically astute athletes we've ever had. After a slow round one, Volk moved in to apply his trademark pressure - coasting past an Aldo who had just scored back to back finishes of Renato Moicano and Jeremy Stephens. All in all, I'd say this was a pretty comfortable victory - one that set him up for his first shot at UFC gold. Sure, it wasn't the thriller that the Mendes fight was - but to win like that against José Aldo deserves to be heralded as a majorly impressive showing.
Max Holloway I
If you need proof of Volkanovski and his team's incredible attention to detail in their gameplanning - look no further than his two matchups between Volkanovski and the featherweight champion of the world. They were two different bouts - of course, and the second fight was far closer than the first. But what's interesting here - is the surprise factor of watching Alexander against these divisional greats. The very last time we were left surprised by a Volkanovski performance against an already-established force of nature was that first Holloway fight. I remember watching it live and not fully understanding just how complex a fighting system he was bringing to the table - and also how watertight it needed to be to handle the immense technical skills of the champion Holloway. That fight saw Volkanovski outfeint Max, outland him in at least three of the rounds contested. And it was a combination of those feints and his leg-kicks that really caused some noticeable doubt to creep in on Holloway's end. Again, his ability to grab the fight by the scruff of its neck and fight it at his own pace - forcing his opponent to do the same, yeah, that's a pretty extraordinary talent - one that has been consistent throughout his career. In that first fight, Max didn't really have the answer. Indeed, it was competitive and I do think that Holloway took the final two rounds - but when all was said and done, Volk, through his patience and his ability to adhere to an expert gameplan - and his ability to think and adapt on the job - yeah, these things brought him his first taste of UFC gold. And the surprise factor, our underrating of Volkanovski - it pretty much disappeared after this. We all knew just how good Max was - and still is - and I think the pieces started to fit together after watching Aldo left without an answer - before then seeing the same thing happen to Max. Volkanovski was starting to get his dues - and we accepted him as the cerebral, methodical master that he is today. But we didn't fully get to see this matchup reach its potential until their second pairing. And it was truly something to behold folks.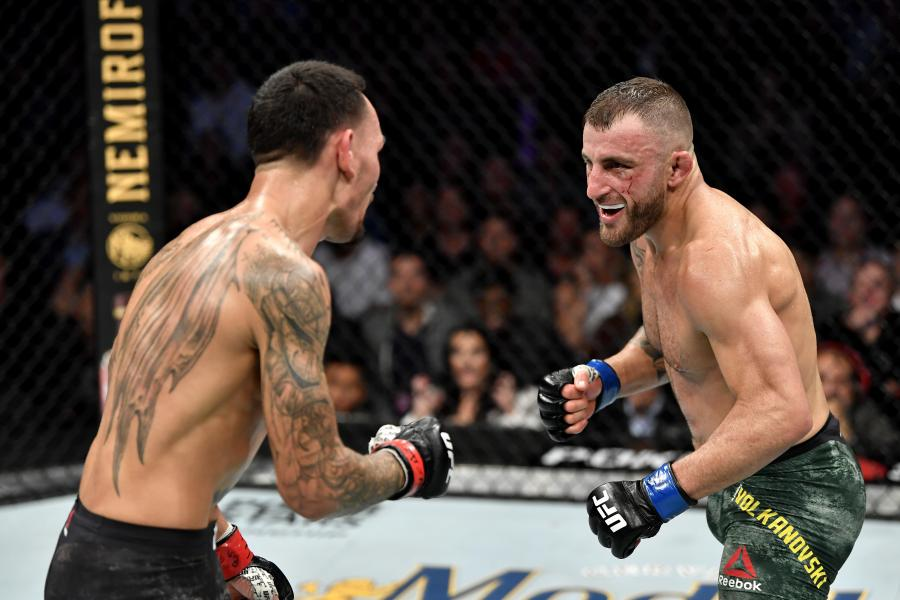 Max Holloway II
Now this was a big one. The second meeting between Max Holloway and Alexander Volkanovski was not as a clear-cut as the first - not even close. In this fight, we managed to get two of the greatest fighters of the era - throwing down in what, in my opinion, is among the highest level mixed martial arts bouts of all-time. And immediately, in the earliest exchanges, it was clear that Max Holloway was fully tuned in to the task in front of him. I don't want to say that in a way that implies that I think that he underestimated Volkanovski in the first fight - because I don't know that - but this time, there was a different energy - like Max had been hurt by losing his title, there was an attitude to him and an acceptance of the fact that he was in there with another great of his era. And when I watched Holloway drop Volk once in round 1 and then again in round 2 - the wheels started turning in my head. What an amazing redemption story this was turning into for Blessed - after losing to a new rising contender, he turns it all around and comes out guns blazing in the rematch - looking set to regain his title. And then Alexander Volkanovski showed up in a big way, adjusting to Holloway's style on the job - slowly proving his own championship calibre by winning the three final rounds to defend his title. I know some people disagreed with the scoring - and it was a razor close fight, but on my rewatch and in every subsequent rewatch I did score it for Volkanovski. This was one of those fights that you are always praying for when five rounds of action are on the cards - two technical wizards going at it in an evenly-matched tactical tour de force. But the general public somehow still had their doubts to some extent about Volk - seeing his title defense as an injustice to Max rather than a triumph for him. Thankfully, the time to get to work on the next line of contenders would turn it all around.
Brian Ortega
He might have dropped big losses to both Volkanovski and Holloway - but Brian Ortega is a legitimately excellent fighter in my eyes. He's not perfect, not any means. But as far as out and out finishers go - this guy as a set of x-factors that are barely rivaled in this sport. Immense physicality for a 145 pounder, big knockout power, incredible endurance, and some of the snappiest submissions you will ever see in an MMA cage. He's a unique threat - and boy did Alexander Volkanovski have to prove his mettle to get out of that cage alive when these two met. The third round aside, this was a pretty dominant effort from Volk - a perfect showcase for his skills that allowed him to really define his in-cage personality to the public outside of his role as the heel to Holloway's hero. But I think he really grabbed the respect of the masses in that third round - where the supremely talented submission specialist Ortega nearly caught him twice - first with a mounted guillotine and second with his signature triangle choke. Listen, I'm no expert in the relationship between fighters and fans - and how that dynamic can be influenced. But if you wanna get people on your side - escaping tight submission and then immediately posturing up and punishing your adversary for even trying - that tends to make the crowd go absolutely bananas - and in this case, knowing what we know about T-City, seeing Volkanovski fight out of those subs and then immediately put a beating on him. What a total badass move.