Articles
5 Conor McGregor Opponents That Make Sense
He's the biggest star in the sport and out of the entire UFC roster right now - he probably has the most to prove, the most upside if he can, in fact, find his way back into the win column.
To say that Conor McGregor has had something of a shaky period over the last five years or so would be putting it lightly.
Sure he's richer than ever, more well-known, and arguably, as notorious as any star in sports.
But we're really in a crucial time for the Irishman's fighting legacy - which, it has to be remembered, is the most important thing. Beyond the trash-talk, the controversy, the inspirational quotes, the achievements, the belts, the money.
So here are 5 opponents that made sense for the upcoming return of Conor McGregor.
Michael Chandler
Ok, so I guess I'm not going to order these in any specific way - but I think there's an argument to be made that a bout between Conor McGregor and Michael Chandler would serve up both the greatest balance of name value and genuine competitive appeal in the lightweight division - as well as the biggest risk of a truly brutal defeat. Chandler's time in the UFC has been outrageously fun - a level of fun few could have imagined, even after his stellar run in Bellator. What I like about this fight, as it relates to McGregor - is that on one hand, you'd be giving him a fighter that is all but certain to stand and bang - even if he does have the wrestling pedigree to dominate. However, it also brings enough intrigue due to standing in the top-5 as well as the fact that he is more than capable of knocking Conor unconscious out of nowhere. If the UFC aren't going to go down the quote, unquote 'tune-up fight' route - then yeah, I do think that Michael Chandler would be a very interesting matchup - even if it's among the most difficult on this list. I'd give the fight to Michael Chandler based on his UFC 274 post-fight call out alone, though!
Tony Ferguson
Next up, we have the one that no-one would really want to see, if it didn't mean that an octagon legend would be handsomely paid for his troubles. That's not to say that Tony Ferguson is an easy win for Conor - but based on his ongoing form - even if he did look decent against Michael Chandler - up until he didn't - it's pretty safe to say that El Cucuy would represent a winnable fight with a popular name attached to it for Conor. Ferguson is certainly in a tricky spot in his career - and I would argue it's a more grim position compared to McGregor's own issues of late. Where Conor would relish the opportunity to take on a very hittable opponent like Ferguson - Tony, it has to be said, possesses more than a few routes to victory against the former champ - namely his cardio, his submission skills, and even his wrestling if he wants to go down that route! But at this point in his career, facing a powerful striker like McGregor just isn't the ideal scenario - however, I can't fully write this one off because as much as it's not the perfect fit, it still does tick quite a few boxes.
Rafael dos Anjos
While he does have an upcoming bout against Rafael Fiziev to worry about in July - win, lose, or draw, if he does come out of that fight in good health - I do think that an end of year battle with Conor McGregor might be a solid option. Not only does this fight have a built-in history - given the whole UFC 196 debacle - but it also represents another good stylistic matchup for both parties. At this stage, for the sake of the health of their biggest attraction - the UFC need to find that perfect middle ground between giving Conor a credible opponent who poses a real threat to him - while also making sure that he's not needlessly being thrown to a much more active fighter with a real gulf in skill. Matchmaking in the UFC is indeed miles ahead of boxing in many ways - but when it comes to easing fighters back into competition - they do fail on many occasions. I don't think RDA is a pushover - in fact, he's far from it - but I do think that this upcoming portion of Conor McGregor's career needs a delicate tough - because of the injury, because of the inactivity, and losses he has sustained - and above all other things, the small chance that he can slowly rebuild himself into something resembling the fighter he once was.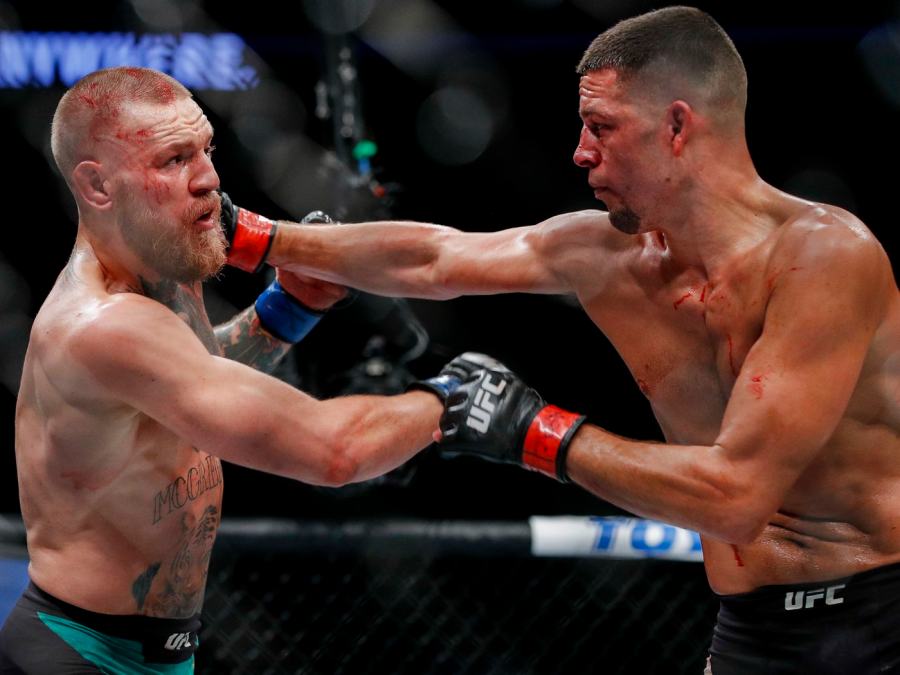 Nate Diaz
The Nate Diaz fight isn't really being talked about as much as you would expect, given their history - and if I'm being totally honest, I'd rather see Nate fight someone else first. That trilogy bout is always going to be there - and it can serve as the perfect back up if things take a turn for the worst in either man's career next time around. But when Conor says that they will eventually share the octagon again - I believe him. I just think that McGregor is better served at 155lbs or fighting a lightweight at 170 if he really must. I'd like to see Nate in there with a fresh name for now. I absolutely don't hate this fight, though.
Jorge Masvidal
And finally, we come to the outlier - the more recent entry to the group that only really gets its mention because of the back and forth shared by Jorge Masvidal and Conor over social media recently. The idea of these two fighting at 170lbs has been floating around for a few years now - after Jorge's resurgence saw him become a genuinely bankable star for the promotion. But now, after three straight defeats - albeit to the two best welterweights on the world - Jorge's stock has indeed taken a hit. But even still, if it weren't for the fact that I'd prefer to see Conor at 155lbs in a fight that is less inherently risky for now - Jorge would actually make a lot of sense. Again, I'm all about the careful management of these fighters - taking an approach that allows these athletes to return from lay-offs, injuries, and stretches of poor form with the deck stacked somewhat in their favour - or at least not against them. A fight between Conor and Jorge would indeed be a lot of fun - but while it has been certainly generating more than a few headlines in the last few days - I don't think it's going to happen, even if it's not totally unrealistic.